"Campaign" definition
On Ambire AdEx a campaign is a group of different ad units (or just one), where targeting, timelines and bids are applicable for the entire campaign.
Now that we have cleared this up, let's see how to create campaigns.
How to create a new advertising campaign on the Ambire AdEx platform
Step 1: Make sure you are logged on the Ambire AdEx platform as an advertiser. On the sidebar menu click on Campaigns, then the "New Campaign" button.
Step 2: On the next screen, choose which existing ad units to assign to your campaign. If you don't have any, go back to the first tutorial on creating ad units.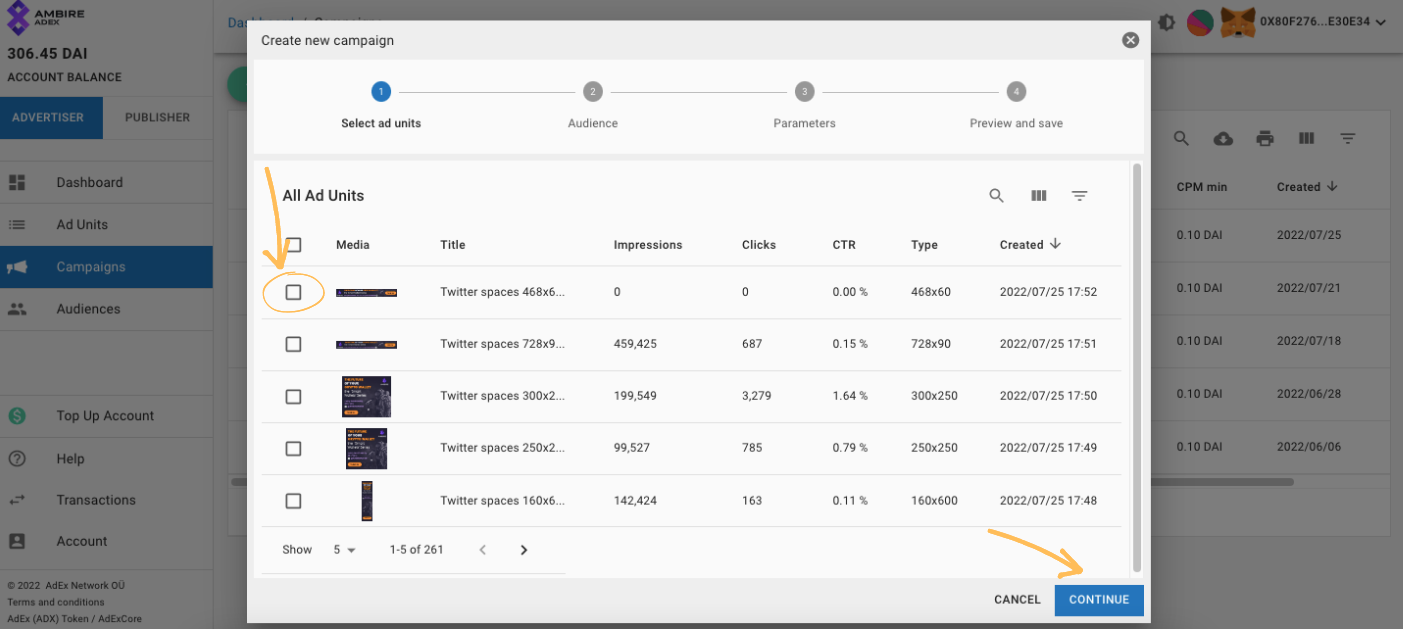 Step 3: Now it is time to define the audience of the campaign (who will see your ad(s). You need to populate all three tabs (Location, Categories and Publishers) in order to proceed.
Start by selecting the location. Here you can either choose to specifically target or exclude countries individually, or you can select them grouped in Tiers from 1 to 4 based on the quality of the traffic. You can read more about the tiers in our this article.
Then choose the categories of publishers. Publishers can no longer select tags themselves but are automatically categorized based on the content of their website(s). You can think of these categories as of interests or affinity groups.
We are using the categories prescribed by the Interactive Advertising Bureau (IAB). You can select either one, multiple or all categories to either target or specifically exclude from their audience (or campaign).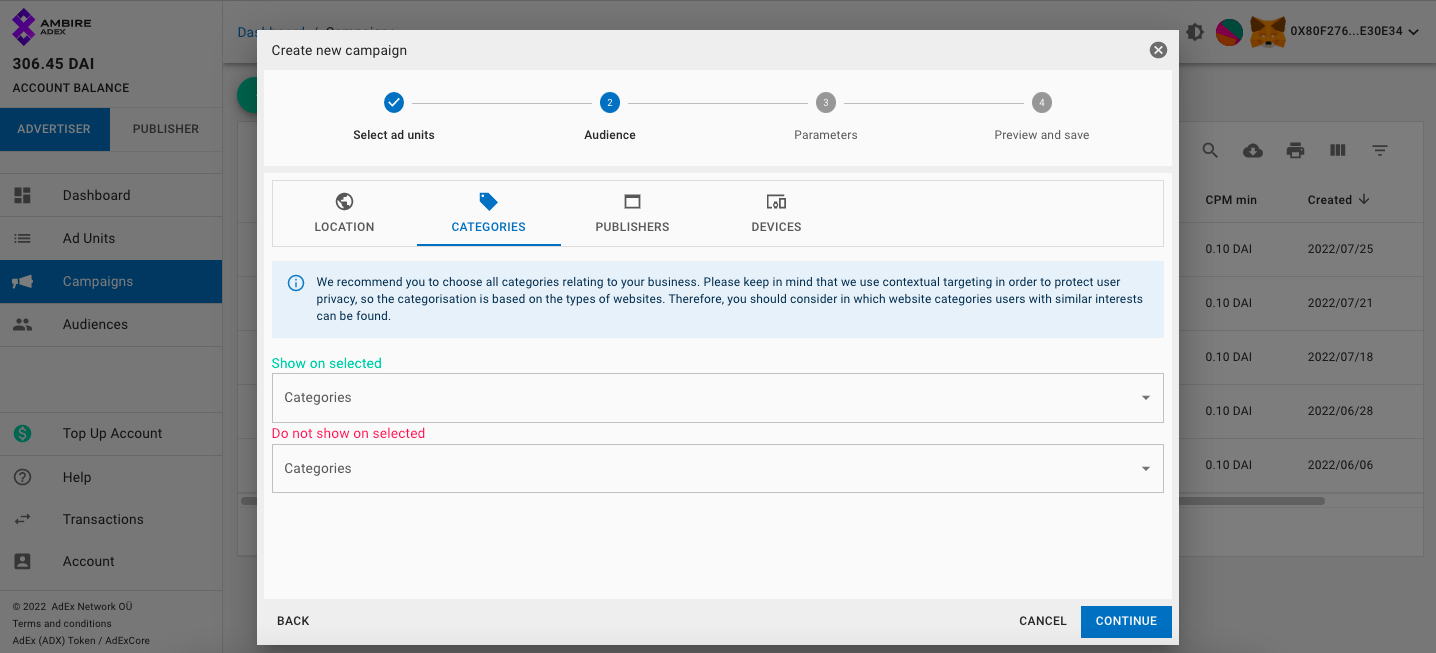 On the next step, select the actual publishers which can show your ad(s). Similar to categories, you can choose a single publisher, multiple or all. Please note: If you select only certain categories, then you can only select from the publishers in those categories (and the ones outside of them will be greyed out).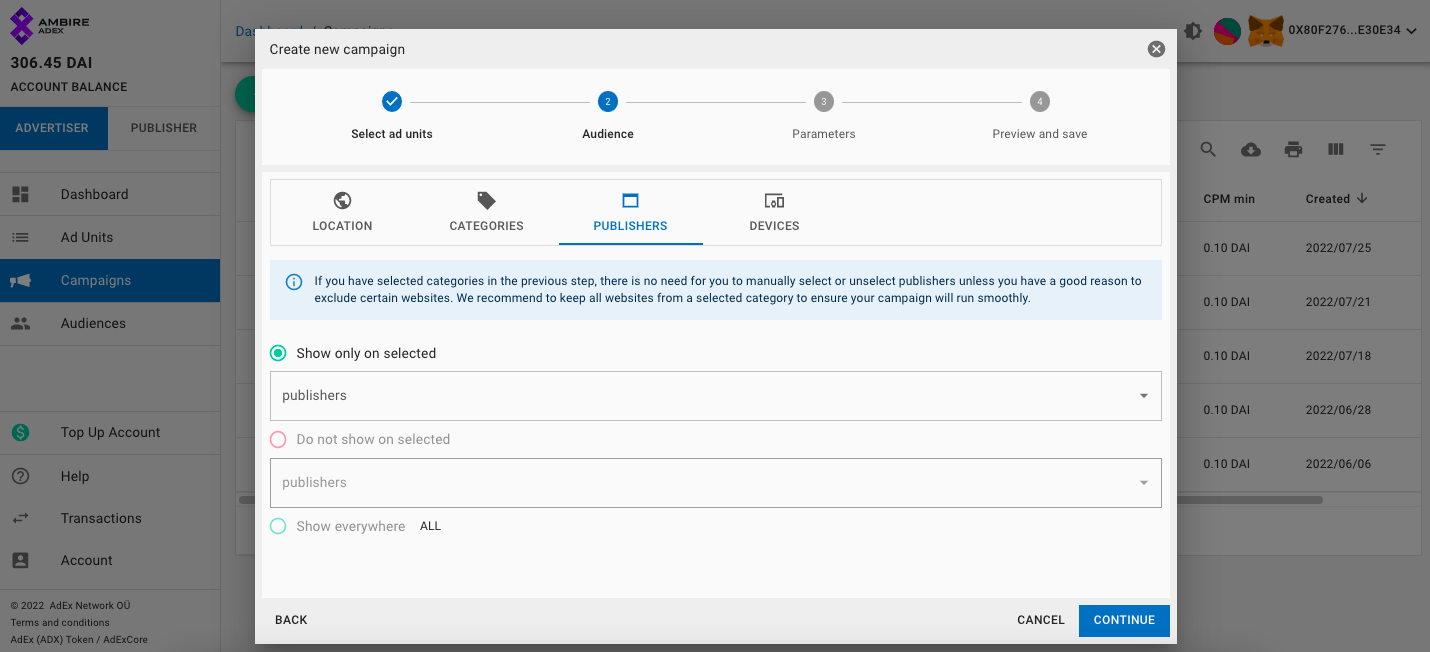 Finally, select the device type on which you want your ad to be shown. You can choose from Desktop, Android or iOS.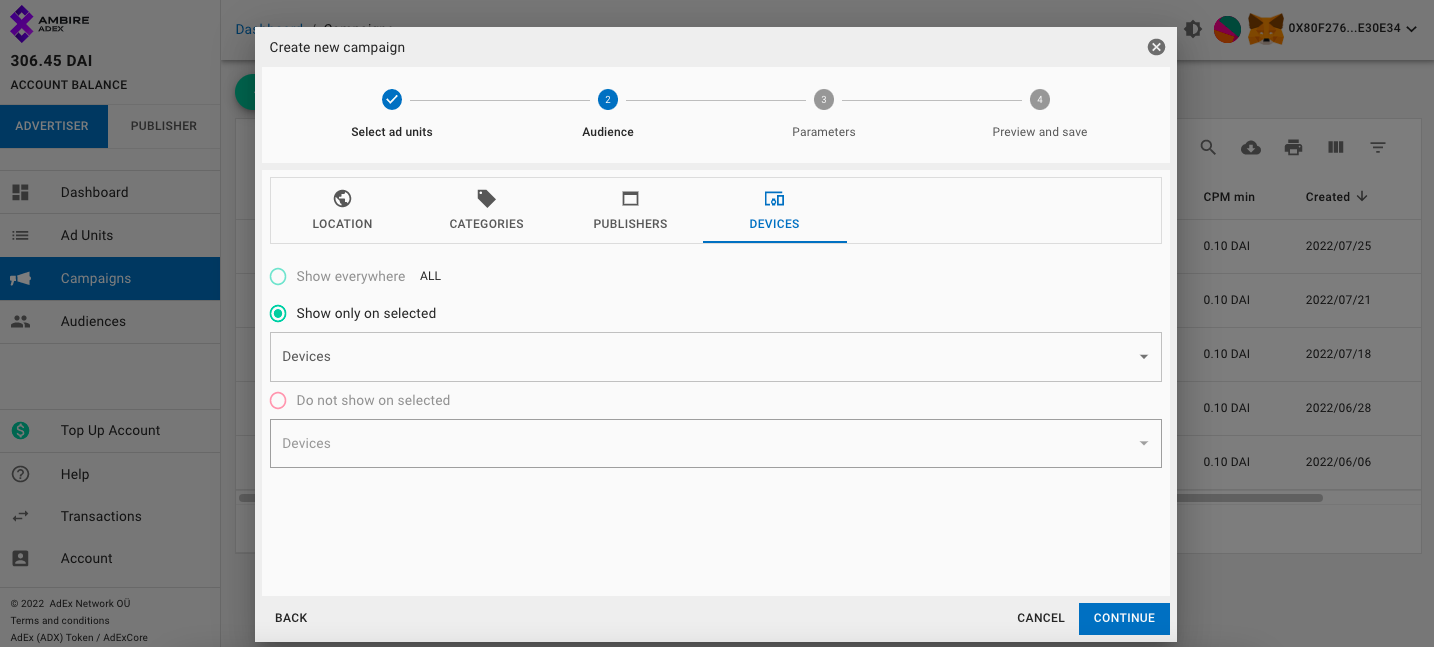 Step 4: On the next screen, set the title, validators*, the campaign total budget, your desired CPM range** and start and end dates of your campaign. When you click on the dates slots, small calendar will open for you to select dates.
*Choosing validators: For now you have one option for advertising platform validator and one for publisher platform validator. In future you'll be able to choose among different validators.
*CPM range: We will recommend a minimum and maximum based on the targeting selected but you can adjust it yourself when creating the campaign. The range will help you optimize your spend - our platform now automatically assigns a weighted CPM depending on the quality of the traffic/publisher, the country tier of the generated impressions, etc.
Scroll down to continue with the parameters of your campaign. Using auto UTM tracking tags and displaying the publisher address will be selected by default but you can untick (disable) them if you wish.
You would also have the following advanced options on the right: include or exclude incentivized traffic; disable frequency capping which is activated by default (and it means to limit how often a user will see the ads from the campaign); as well as limit the average daily spending (so that the campaign budget doesn't run out sooner than planned).
Once you are happy with your selection, click on Continue.
Step 4: Preview your campaign and check if everything looks good. If you need to make any edits, use the "Back" button. If things look fine, just save it.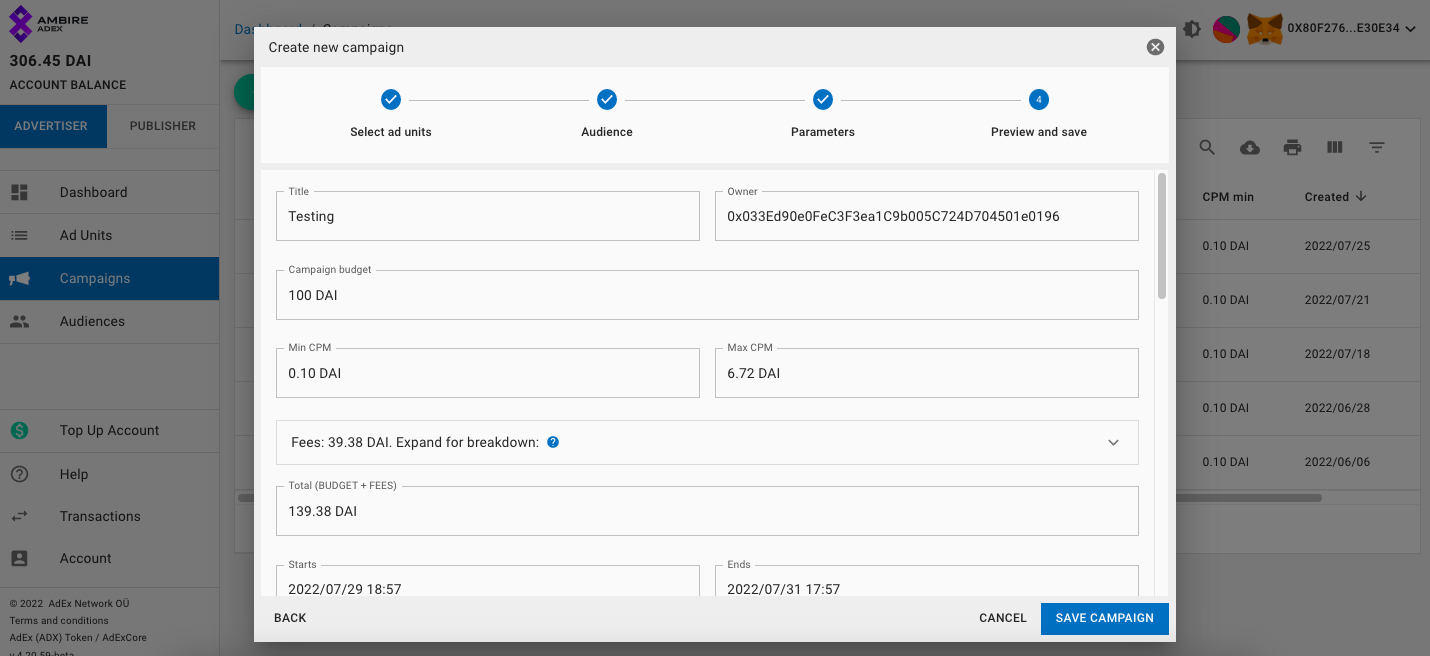 Your campaign is now created and it will start running whenever the "Start date" is set.
How to create a new campaign using Audiences and existing campaigns
There are two more ways to create a new campaign, if you already have ran a campaign or have saved an audience you wish to use.
Option 1: You can create an advertising campaign directly from the Audiences Tab. Simply click on the icon "Create new campaign from this audience" under Actions on the right side. You can then select the ad units, but the Audience tab will already be pre-populated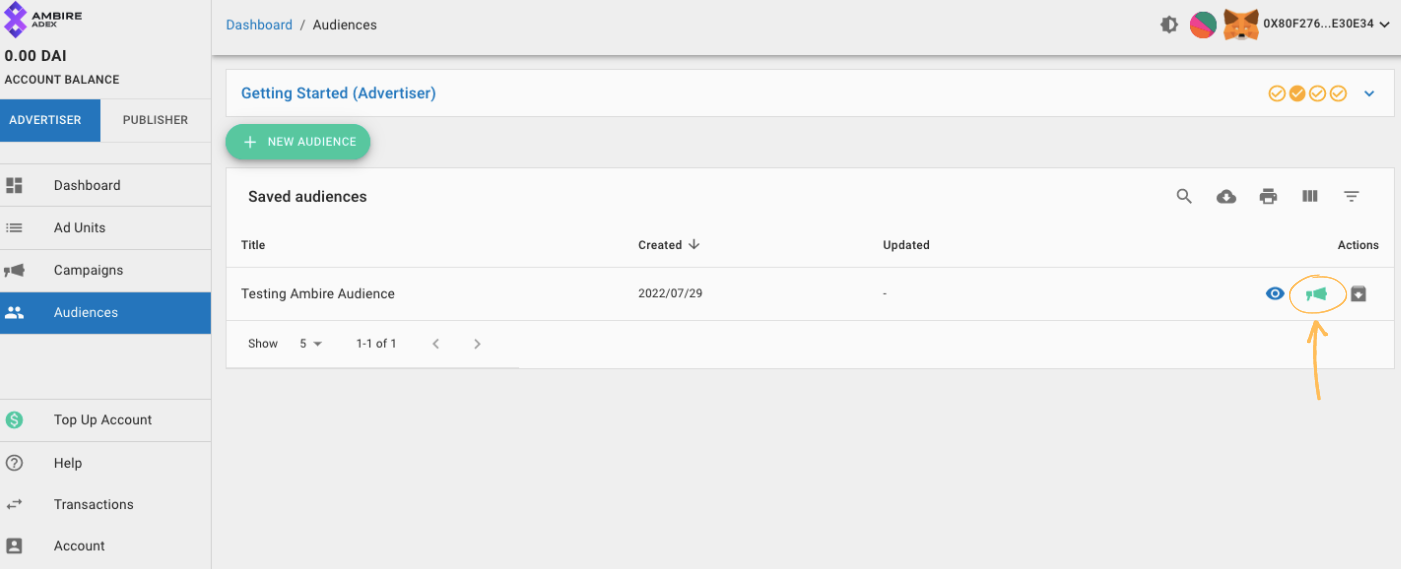 Option 2: You can create a new campaign from a previous campaign. To do so, simply click on View under the actions for the existing campaign in question, then select the Audience tab, and you can launch a new campaign in a few clicks: