Data and numbers are essential to build an effective marketing machine, so most experienced marketers are using UTM links when building a campaign. You can use UTM links in Ambire AdEx too and we actually recommend it.
What is UTM link?
UTM tags are extensions to normal hyperlinks that allow you to track traffic coming to your website from a certain platform.
Say you post a link to your site on Facebook, and you use a UTM tag, you will be able to track people that clicked on that specific post and what they did exactly after landing on your website.
The main reason marketers implement UTM tags is to track campaign performance, because UTM tags will help differentiate the traffic coming from each source and medium by campaign.
How does a UTM link look like?
A UTM link has several attributes that give information about the campaign to Google Analytics or other analytics tools. All attributes are added to the main hyperlink you want your ad to point to. There are 5 different types of attributes:
Campaign Source — This shows the origin of your traffic. A website, an app, email.
Campaign Medium — This is the general category of the source. Mediums can be be Organic, Referral, or Paid.
Campaign Name — This is how you named internally your campaign. For example you can have two different campaigns running on the same source. The name is one way to differentiate them.
Campaign Term — You may use this mainly for tracking your keywords during a paid AdWords campaign. You can also use it in your display ad campaigns to identify aspects of your audience
Campaign Content — You may use it for A/B testing content. You may run two different 728x90 banners — the content tag can help you make the difference.
Where to analyse UTM tags?
Where you will analyse how your campaigns are performing with UTM tags depends on what Analytics platform you are using — Google Analytics, Adobe Analytics, Yandex, etc.
However, in this tutorial we'll show you where to monitor your UTM links in Google Analytics. It is really simple.
On the left side of your Google Analytics Dashboard, go to Acquisition>Campaigns
How to use UTM tags in Ambire AdEx?
When creating an advertising campaign, you will be able to select whether or not to add UTM tracking tags to your campaign. You have a further option to use the UTM source with publisher address, this way you can see specifically from which publishers your traffic has come.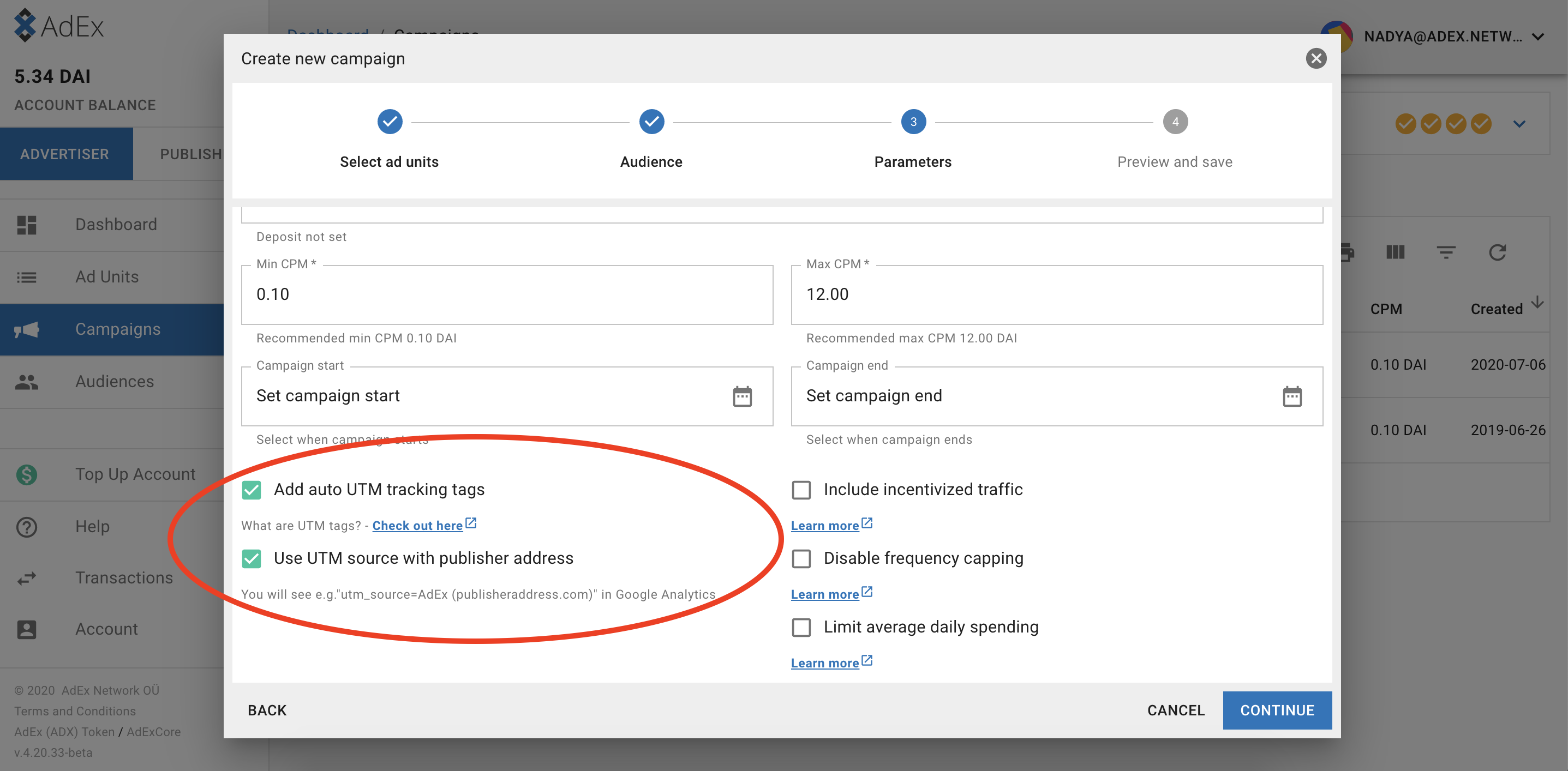 That's all. Go build awesome campaigns on Ambire AdEx!