This tutorial will show you how to create and use Audiences. You can determine the targeting when creating a campaign, however if you are going to be targeting the same publisher websites, geolocations etc you can also create Audiences and then create campaigns using them much faster.
How to create an Audience
Step 1: In your Advertiser dashboard, click on Audiences and then on New Audience: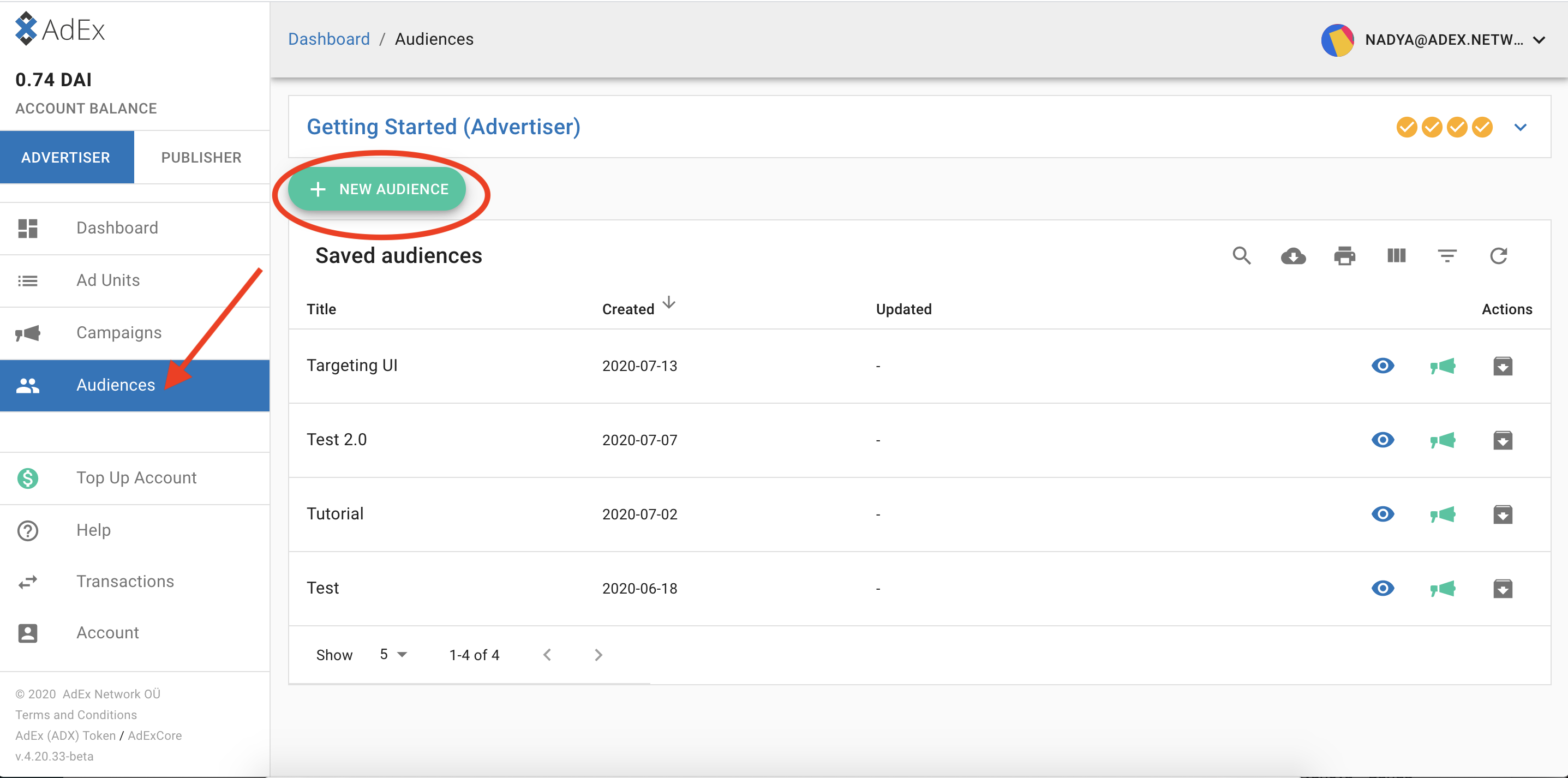 Step 2: Choose a title (name) for your audience (please note you will not be able to change it later) and click Continue: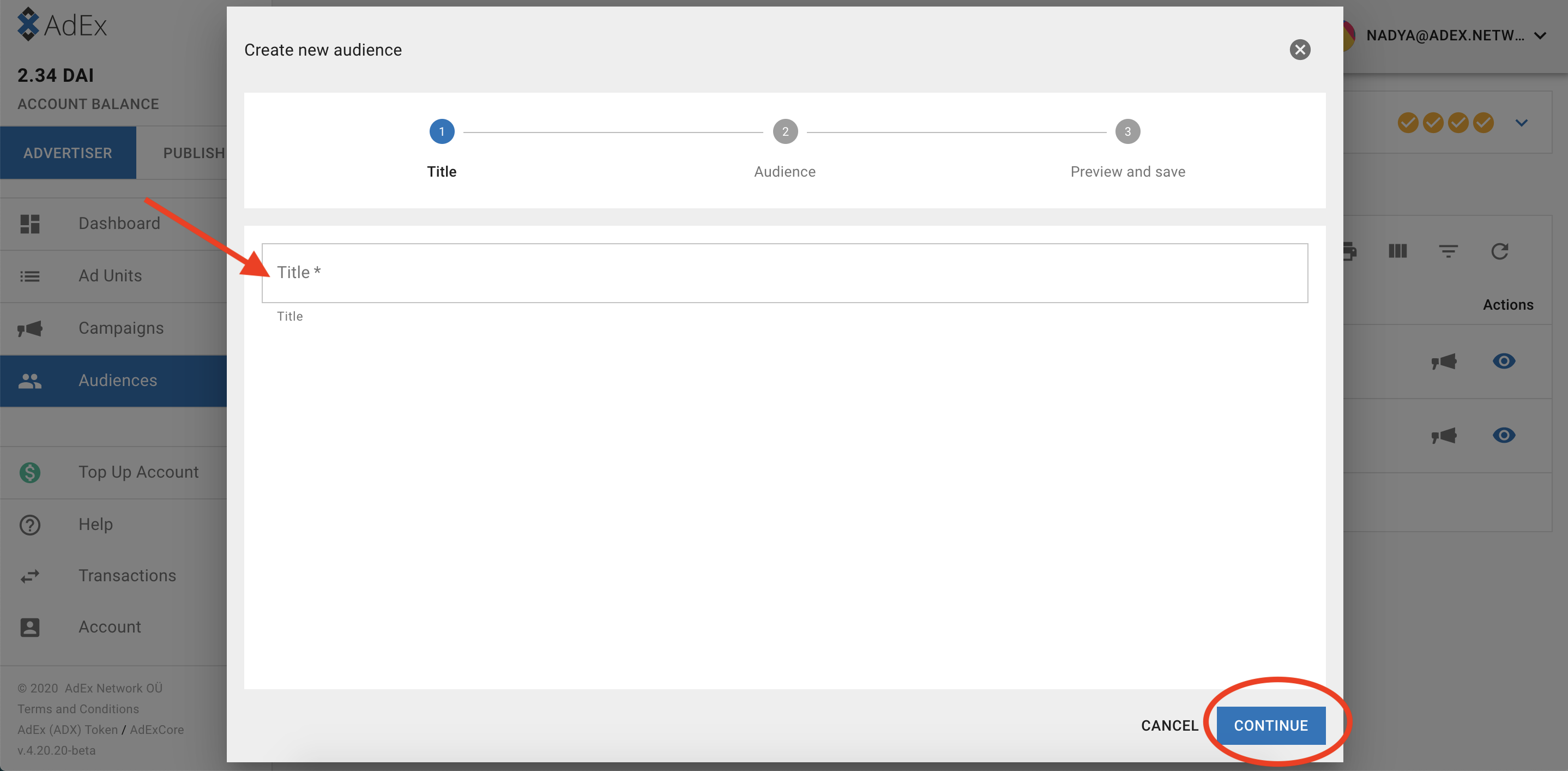 Now you have to determine the targeting. Please note you must fill at least the first three tabs under Audience in order to continue (the settings under Advanced are optional).
Step 3: Select the locations you'd like to either target or exclude. You can select one or multiple countries separately or select them grouped in Tiers from 1 to 4 based on the quality of the traffic. You can read more about the tiers in our this article.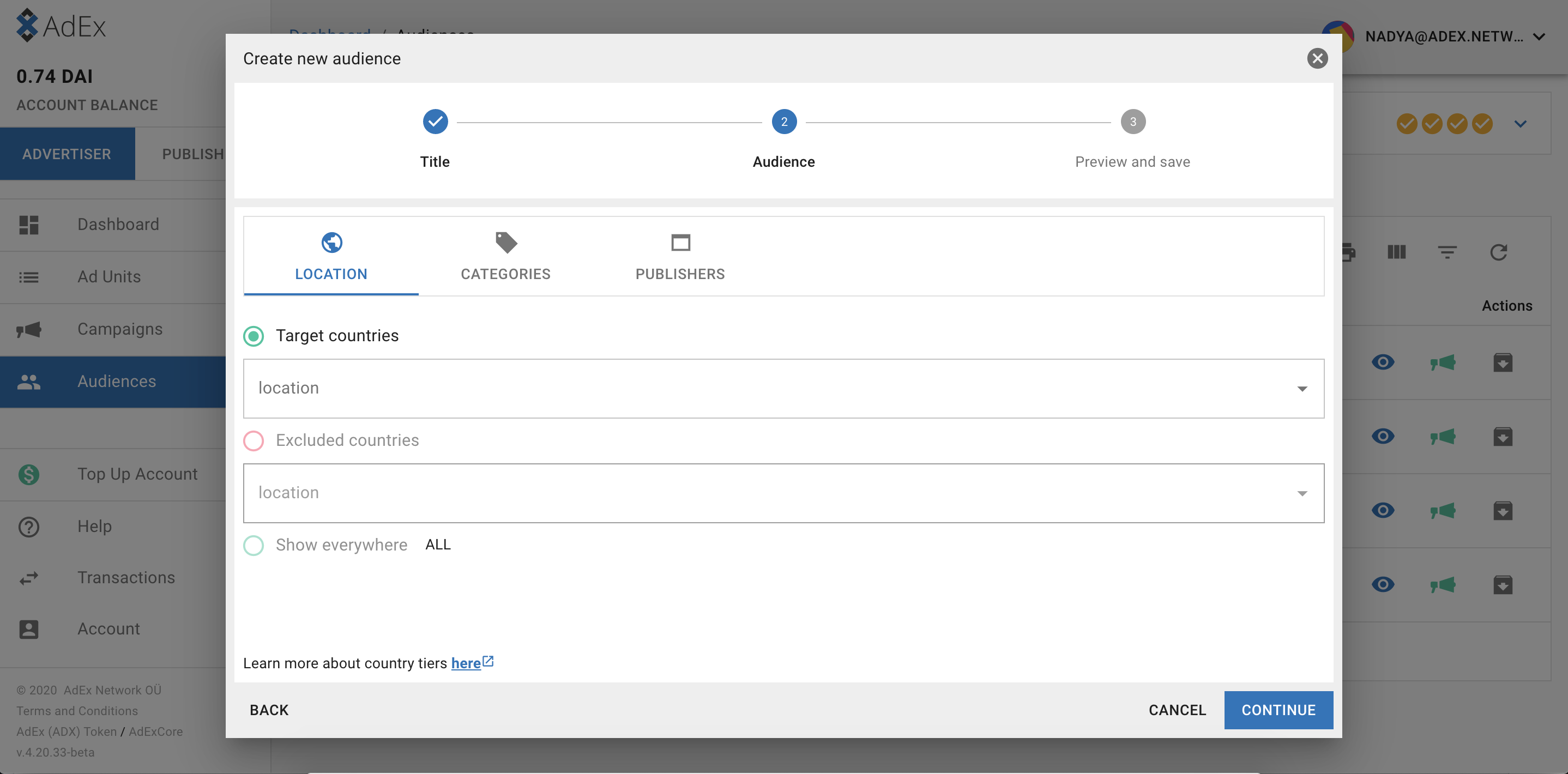 Step 4: Select categories of publishers. We are using the categories prescribed by the Interactive Advertising Bureau (IAB) to automatically categorise publisher websites. You can select either one, multiple or all categories to either target or specifically exclude from their audience (or campaign). Please note: If you select only certain categories, then you can only select from the publishers in those categories (and the ones outside of them will be greyed out).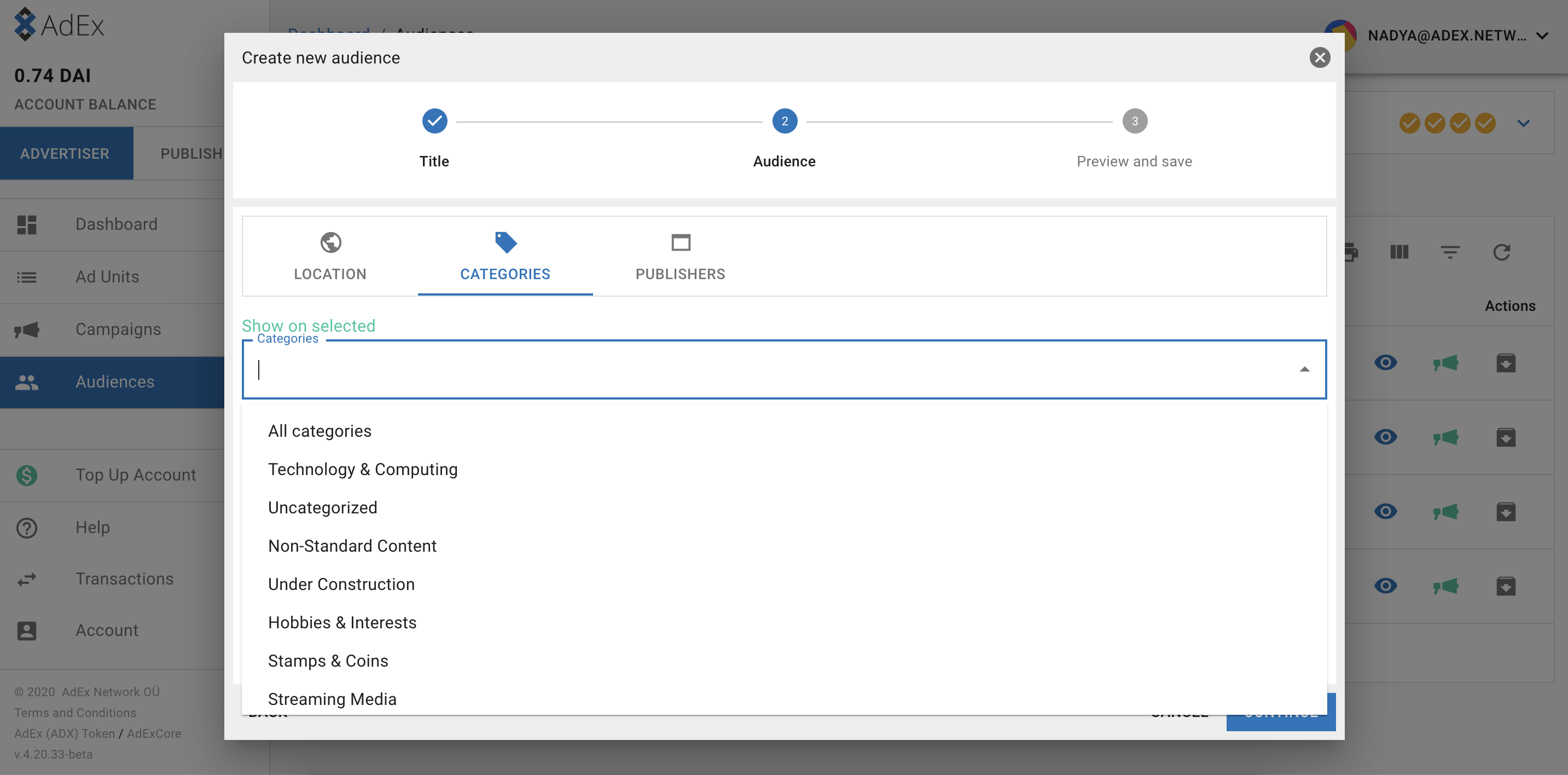 Step 5: Select the publisher websites where you would like your ad to show. You may not be able to select certain publishers if they are outside of the categories you defined in the previous step.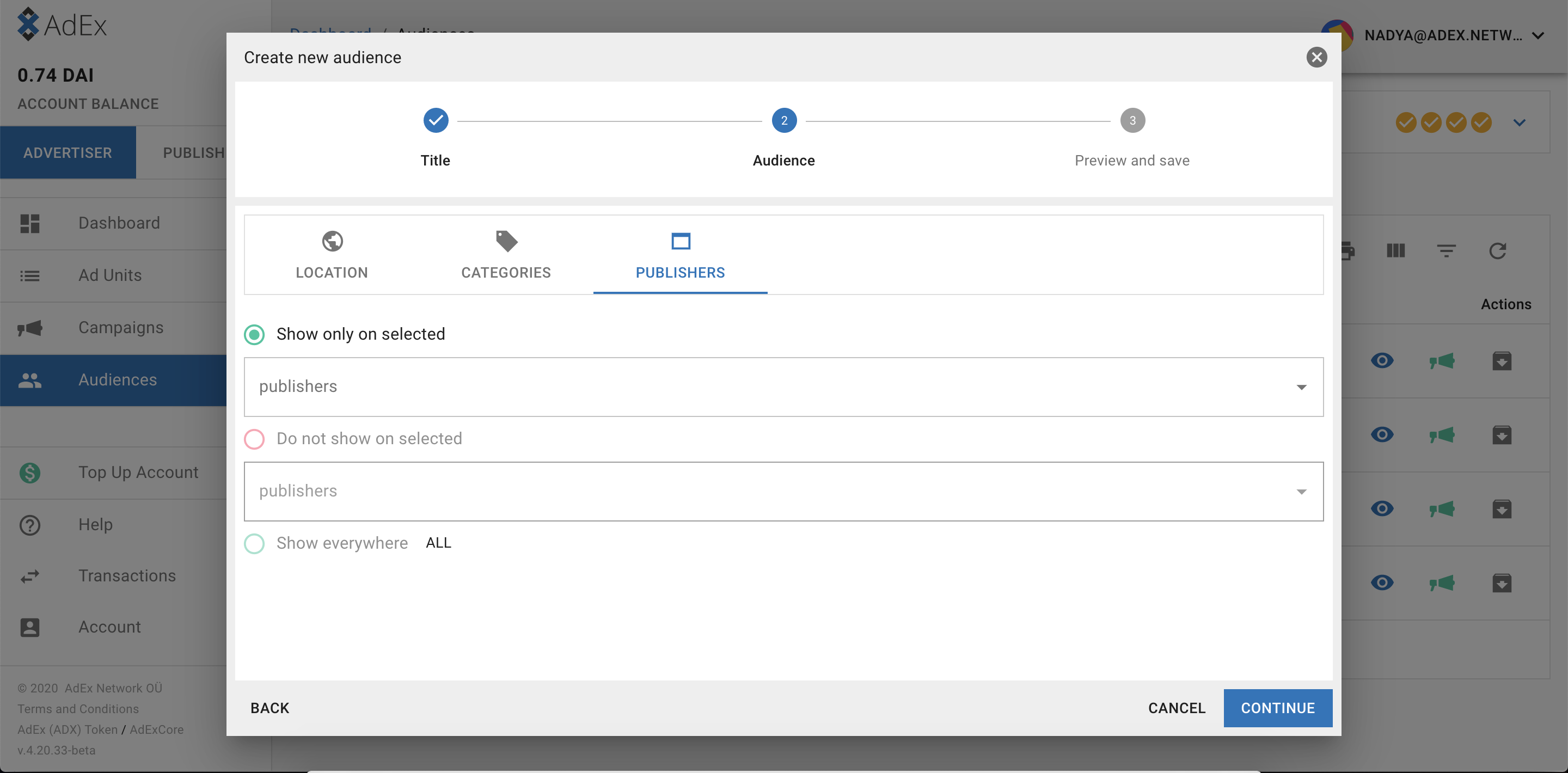 Step 6: Preview all parameters and edit if necessary. Save the Audience if you are happy with your selection. It will appear in your Audiences tab then.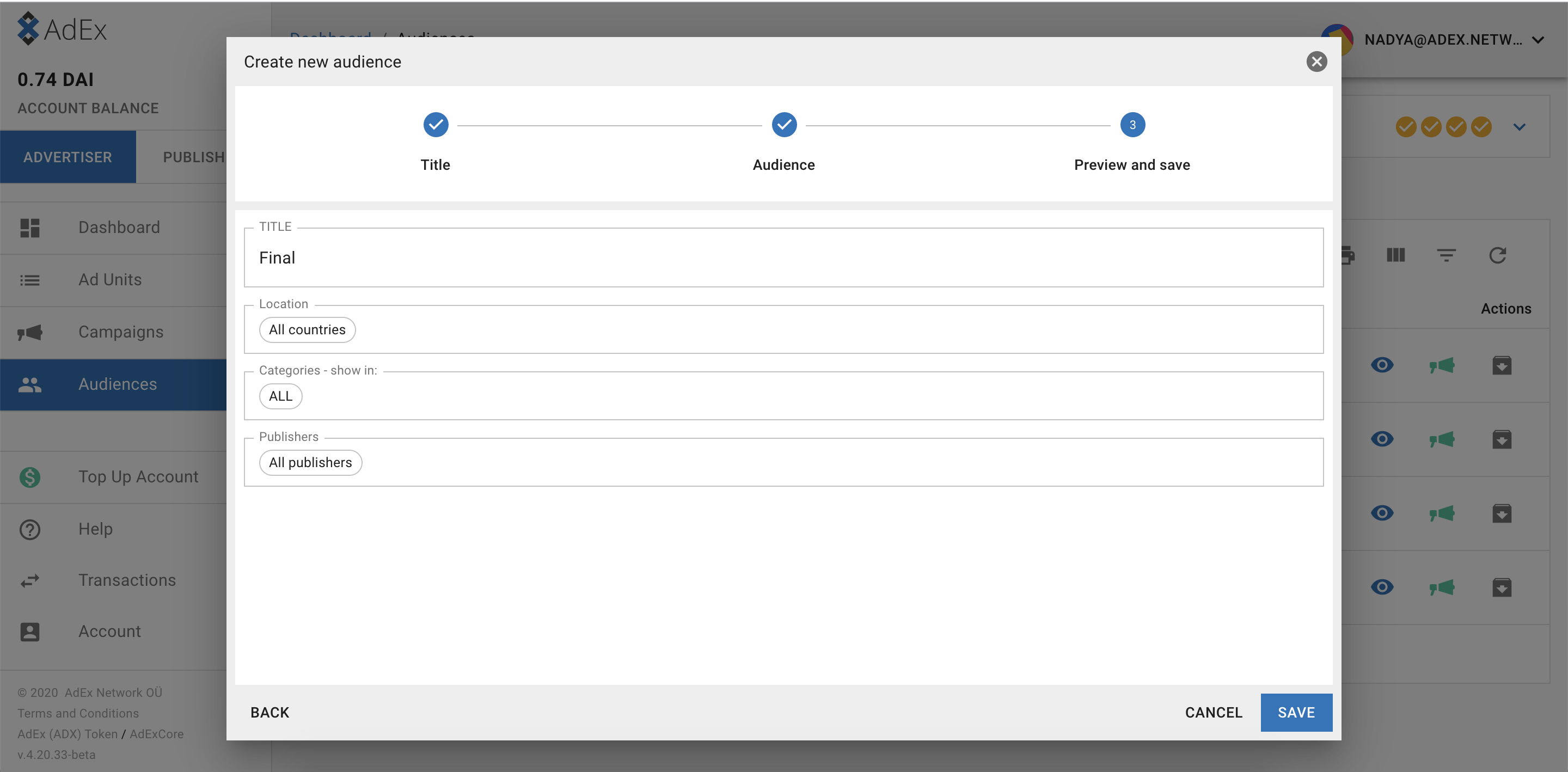 How to save an audience from a campaign
If you have recently ran a campaign and you'd like to use the same audience for a further campaign, you can easily do it. You can either start a new campaign directly from the Audiences tab on the existing campaign, or save the Audience to re-use in future.
To do so, simply click on the campaign in question in your Advertiser dashboard, then click on Audiences and you will have both options on the bottom.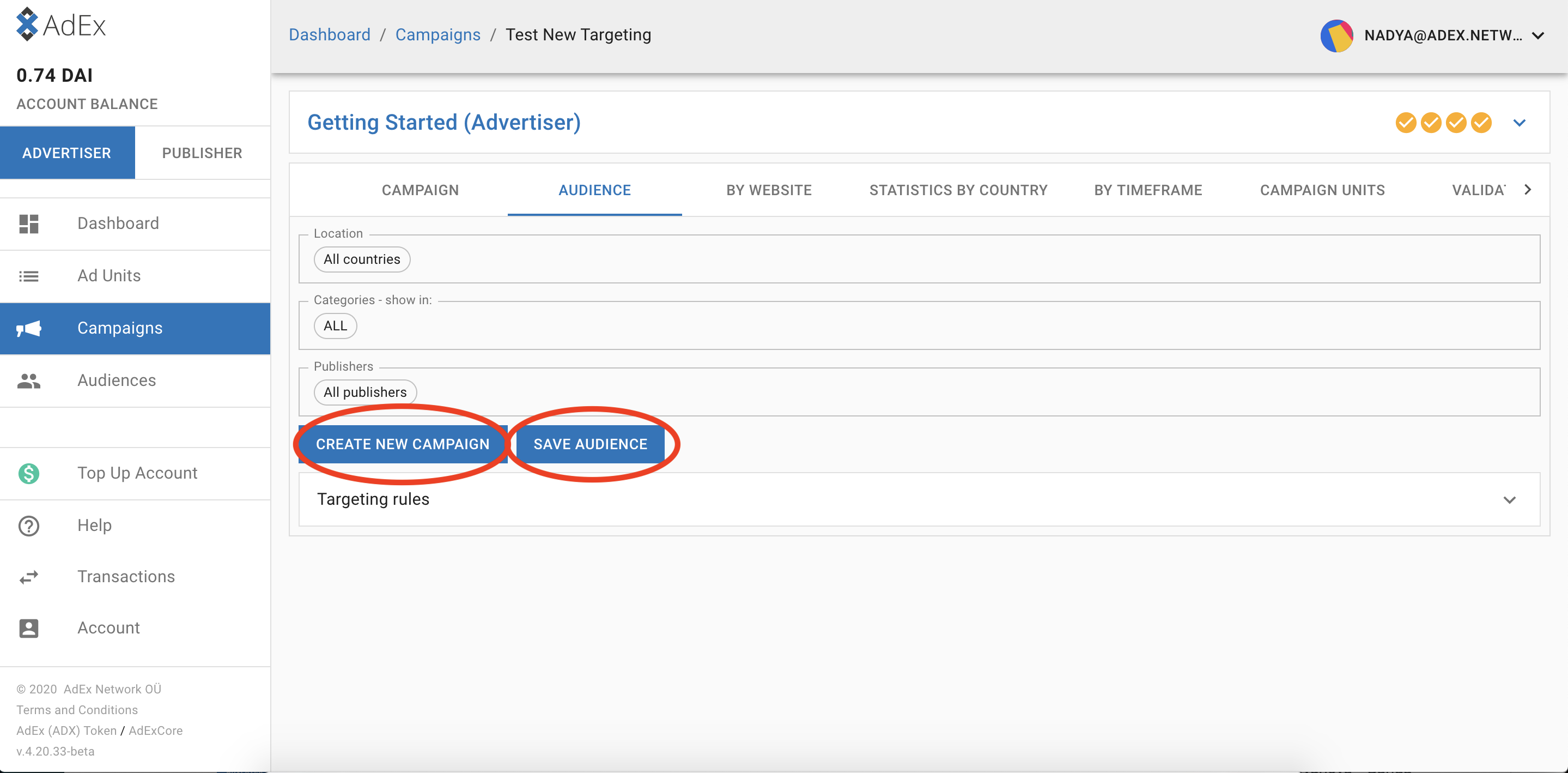 What can you use Audiences for?
You can create an advertising campaign directly from the Audiences Tab. Simply click on the icon "Create new campaign from this audience" under Actions on the right side.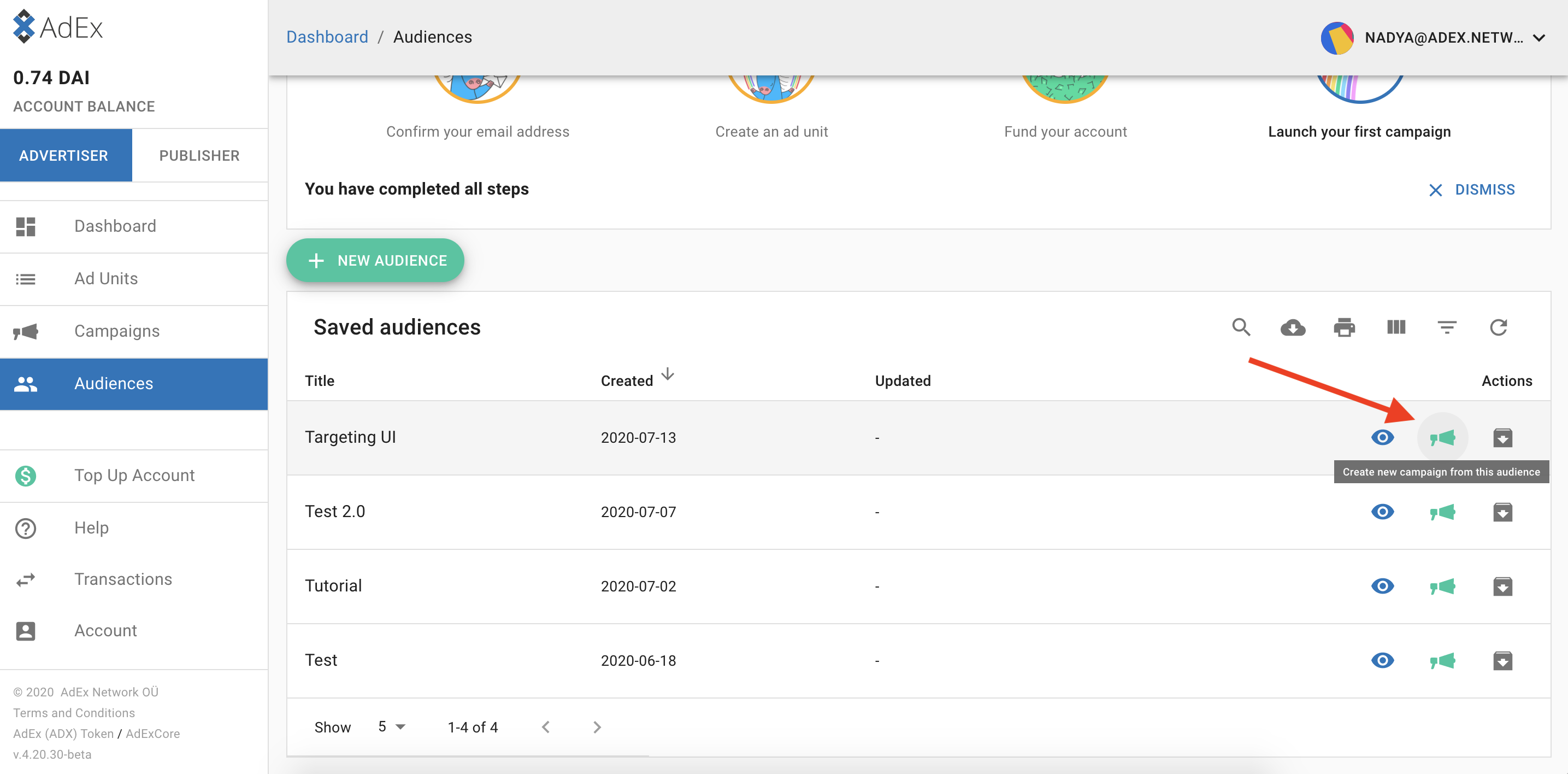 You would need to select the ad units as well as the campaign parameters (budget, CPM, duration, etc) as per usual but the Audiences tabs will be pre-populated with what you chose when creating the Audience.

You can update or edit the audience or create a new audience from it too (if only small changes are needed e.g.). To do so, simply click on the icon "View" under Actions on the right and you will have the options to Edit, Create a New Campaign, Create a New Audience or Archive (see further below on archiving):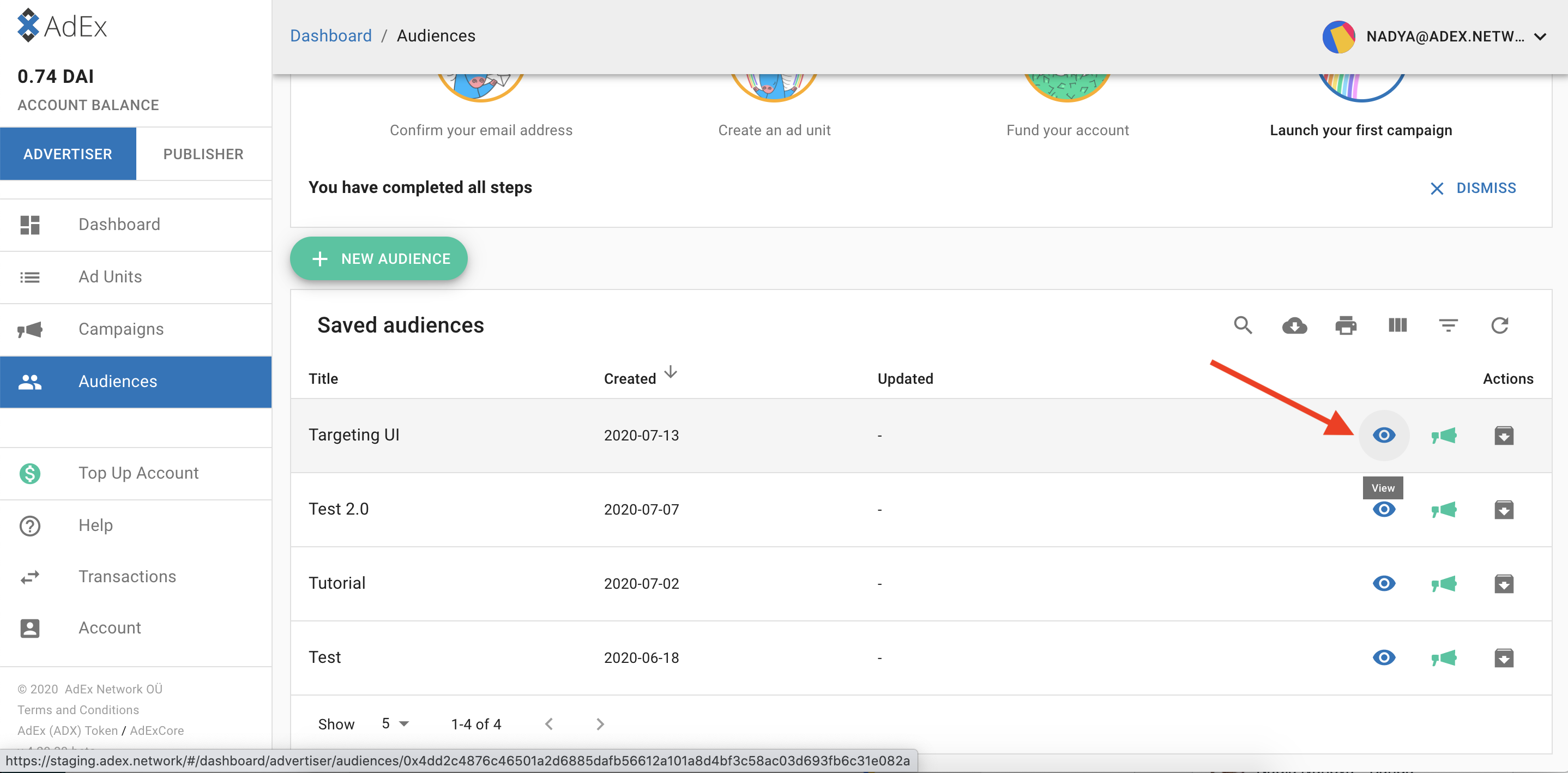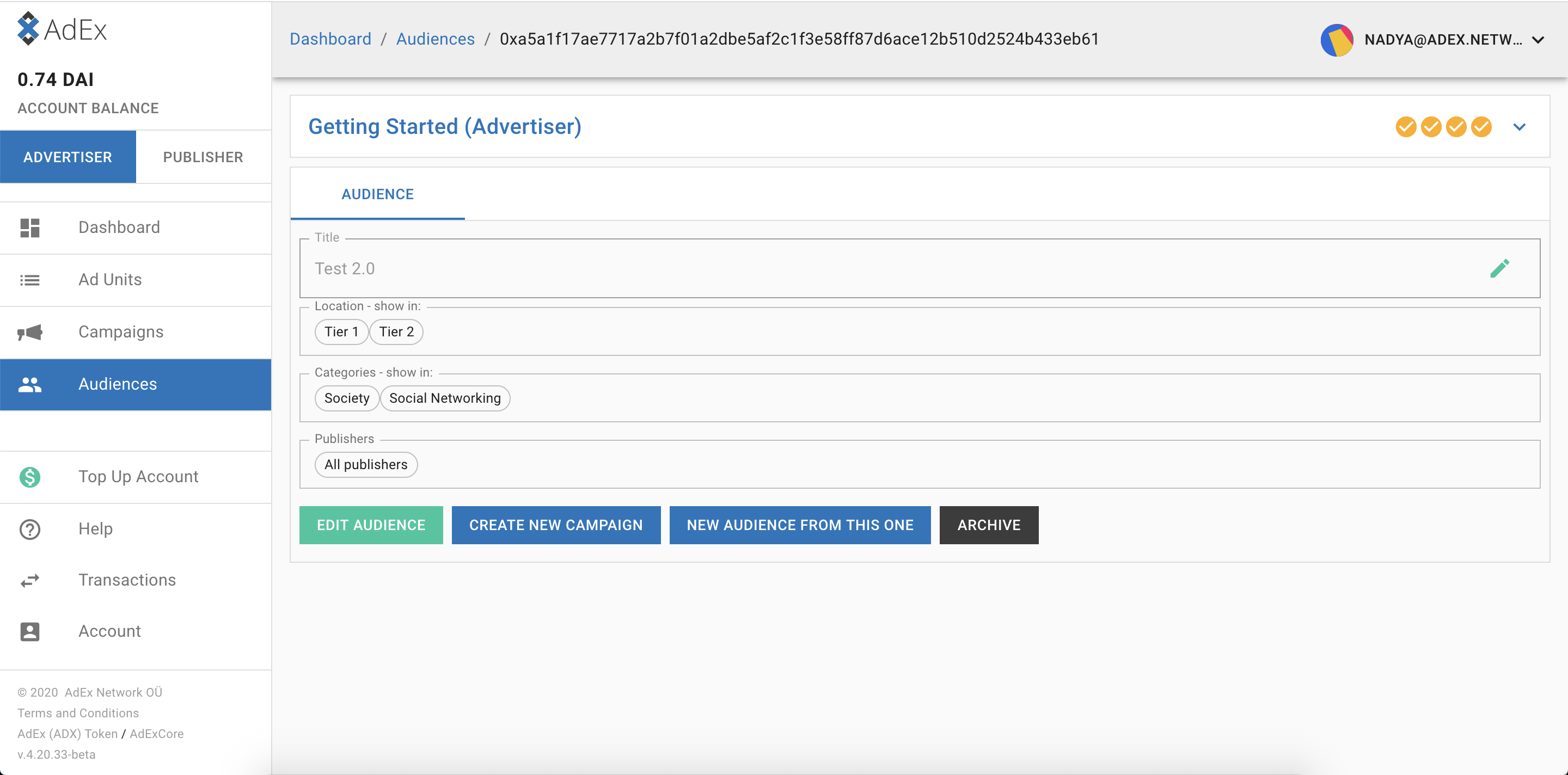 You can archive an audience. If you no longer wish to use a specific audience or have made a mistake while creating it (which cannot be edited, e.g. the name of it), you can simply archive it. It will no longer show in your account.