Before you start staking, we recommend you check what you need in order to stake! We'd like to specifically make a note here that Staking is completely independent from our Advertising platform and you do not need an account at Ambire AdEx in order to stake!
How to stake your ADX tokens
Step 1: First ensure that you have MetaMask installed and set up or a wallet supported by WalletConnect. It's important to note you need to have ADX to stake and some ETH for gas (transaction fees) in your MetaMask account or WalletConnect supported wallet.
If using MetaMask, we recommend using it with Google Chrome as users have reported issues when using other browsers.
This tutorial was made using MetaMask with Google Chrome on desktop. If you chose to use a mobile wallet, and wallet connect, simply choose 'Connect with WalletConnect' in Step 3 and follow the instructions - once your wallet is connected, the steps from 5 onwards are the same.

For a tutorial how to stake on your mobile, click here.
Step 2: Go to https://staking.adex.network/ and click on 'Connect wallet' in the upper right corner.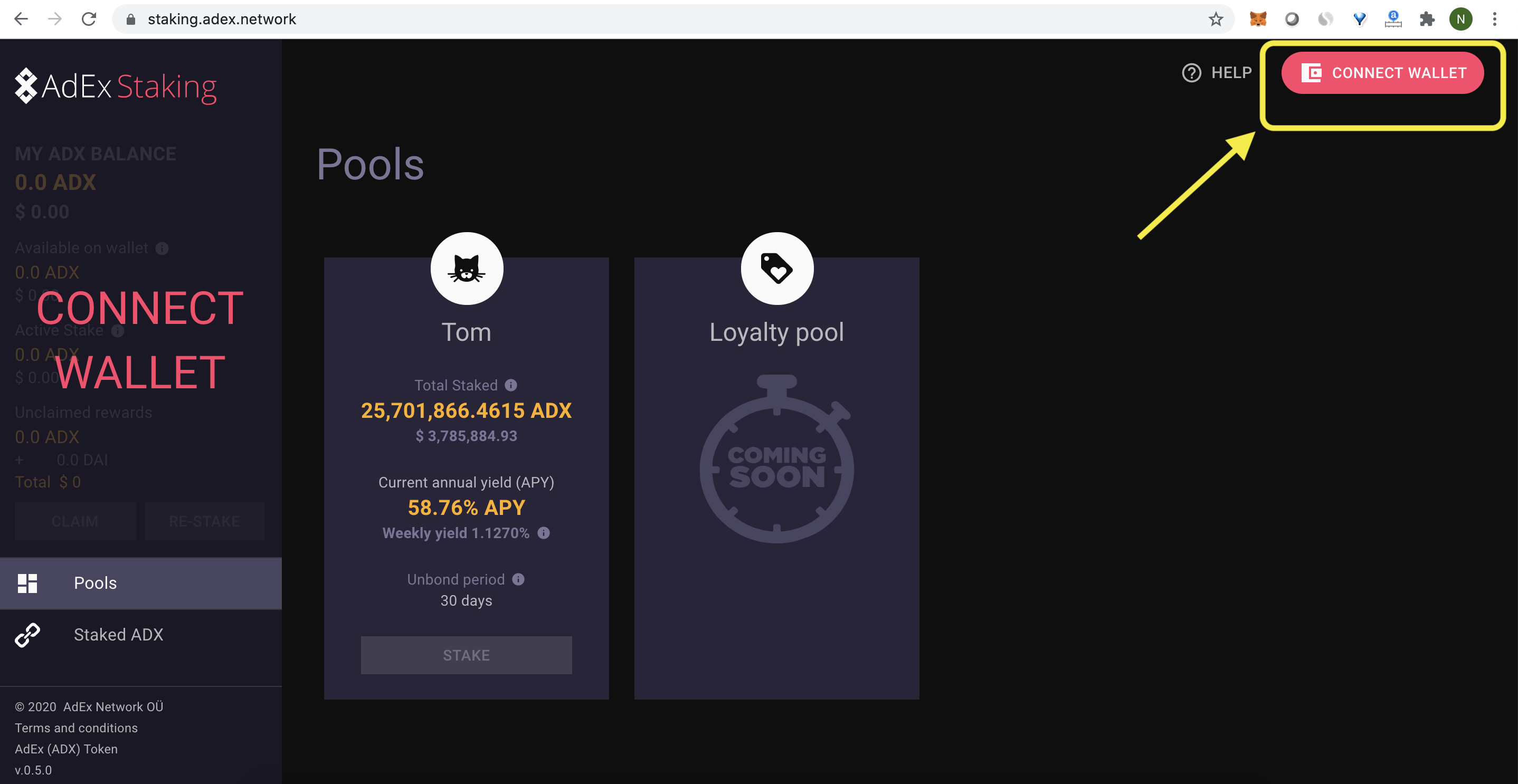 Step 3: Select 'Connect with MetaMask' (if using a mobile wallet, select 'Connect with WalletConnect' and follow the instructions by scanning the QR code with your mobile wallet. Then skip to Step 5):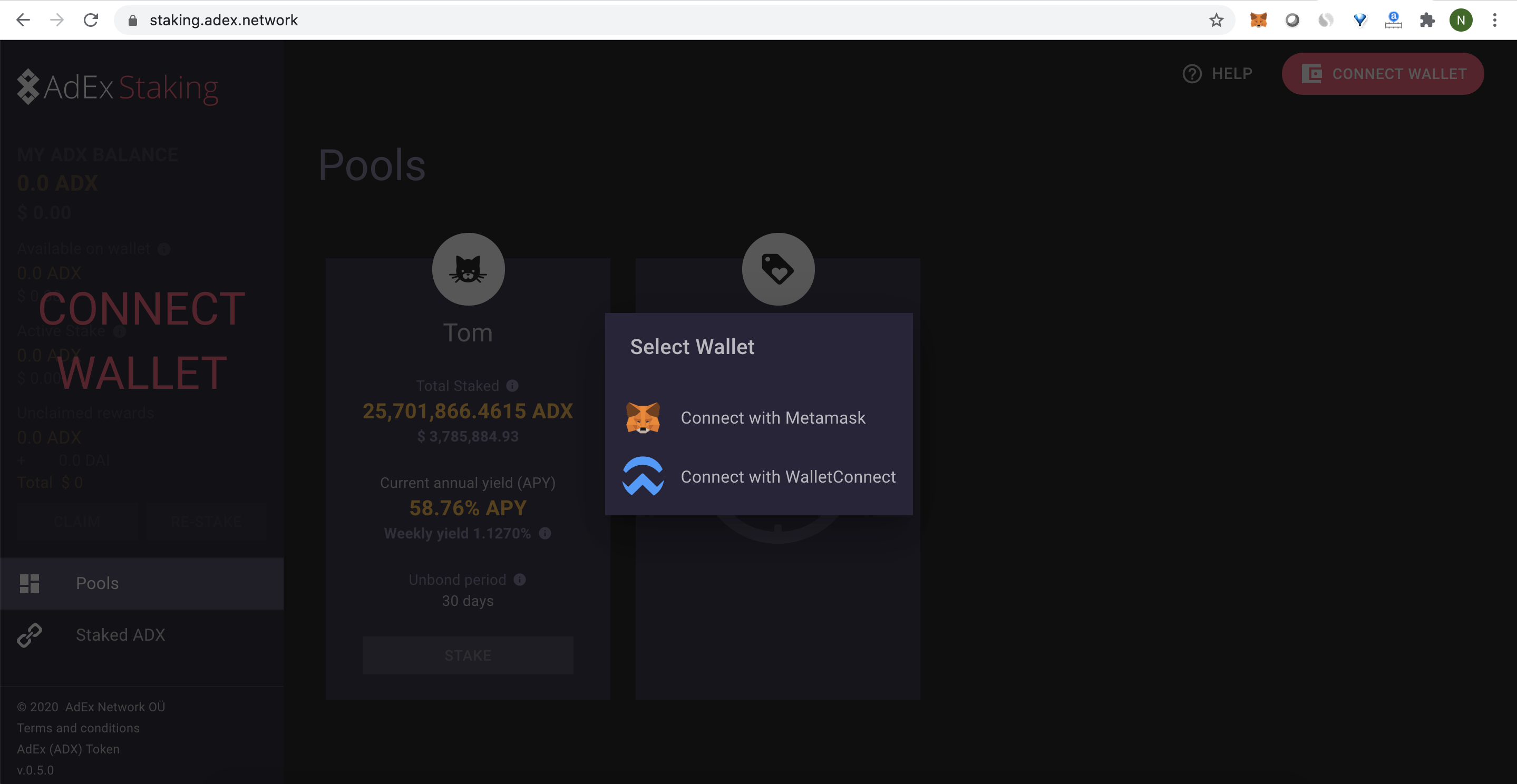 Step 4: Authorise MetaMask to connect to our Staking portal. Confirm all transactions in the MetaMask pop-up: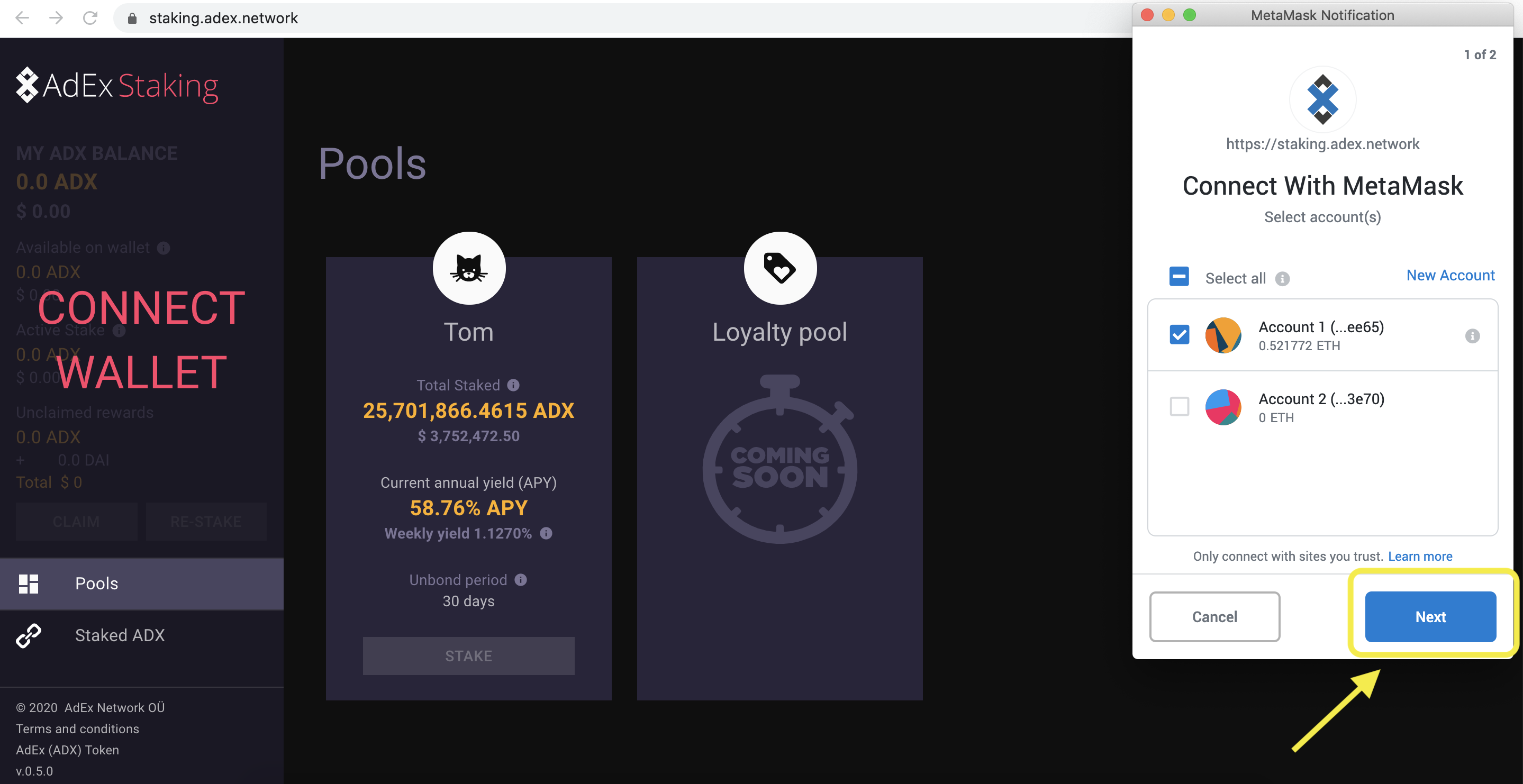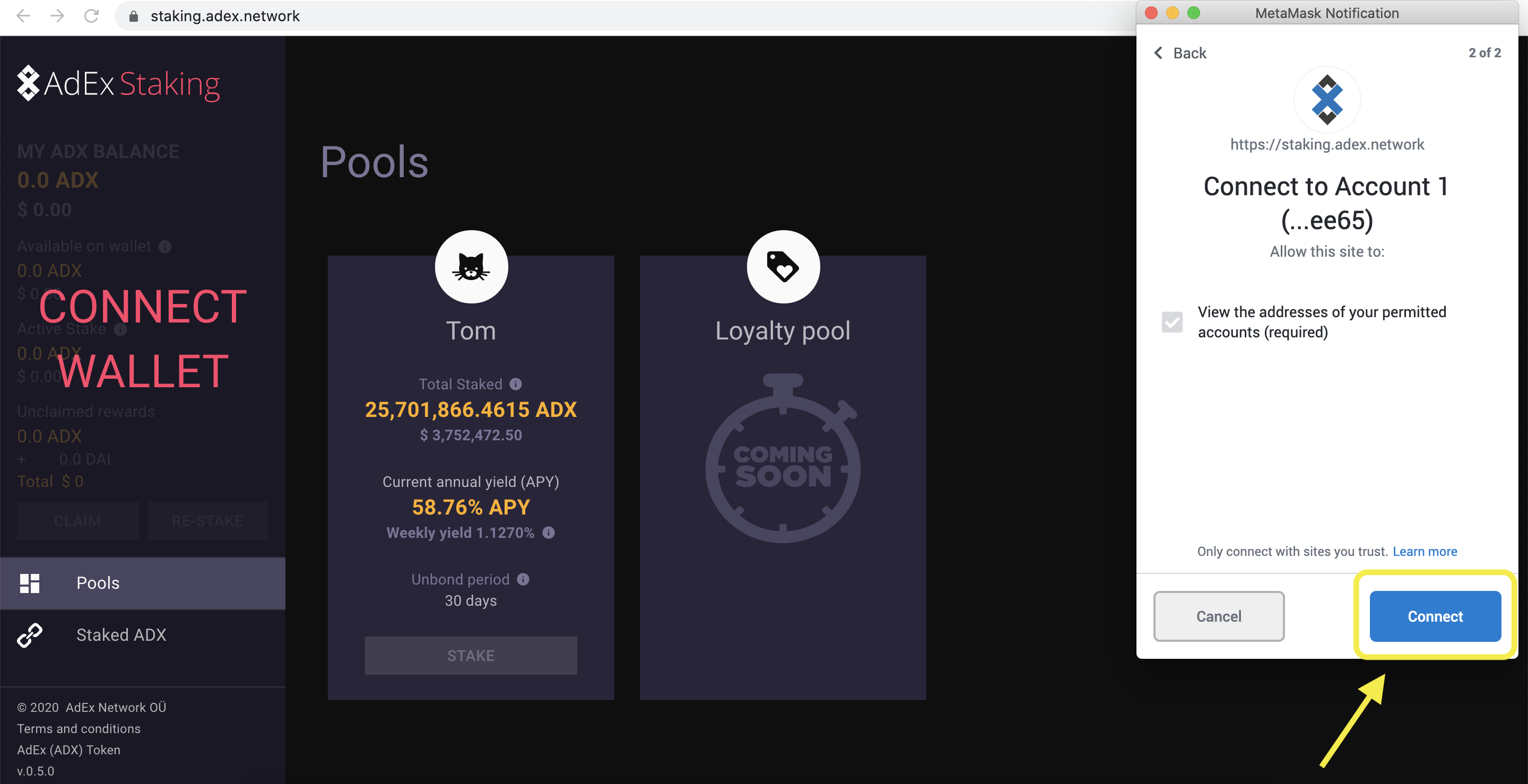 Step 5: Once you have connected MetaMask or your mobile wallet, the STAKE YOUR ADX button in the upper right corner will be activated. You can stake by clicking on or by clicking on STAKE under the available pools: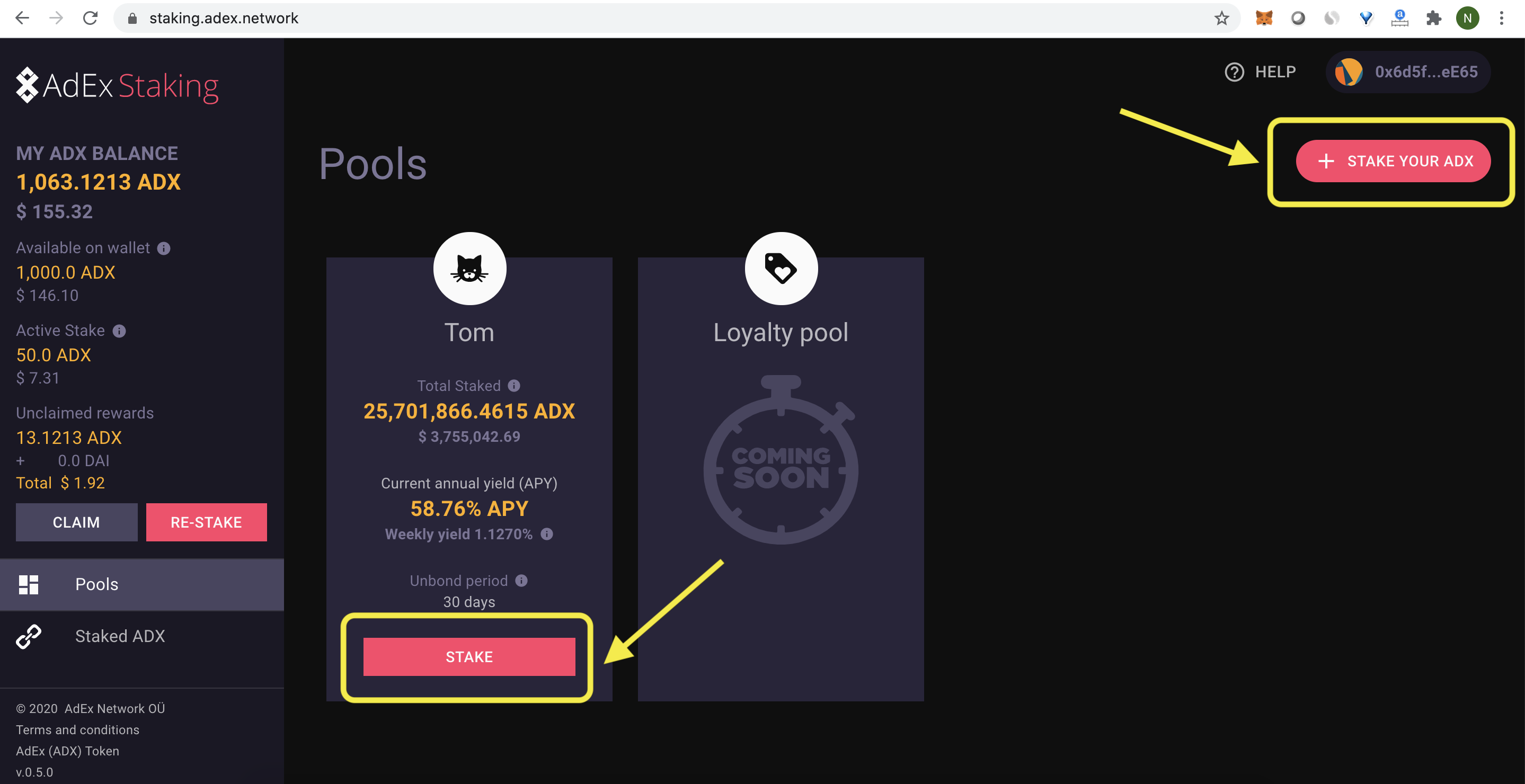 Step 6: Fill in the form how much ADX you'd like to stake (the maximum amount will be the total amount of ADX tokens you hold in the connected MetaMask wallet) and choose a staking pool. Currently you can choose between "Tom" & Loyalty Pool. This tutorial is for Pool Tom. Here's how to join the Loyalty Pool.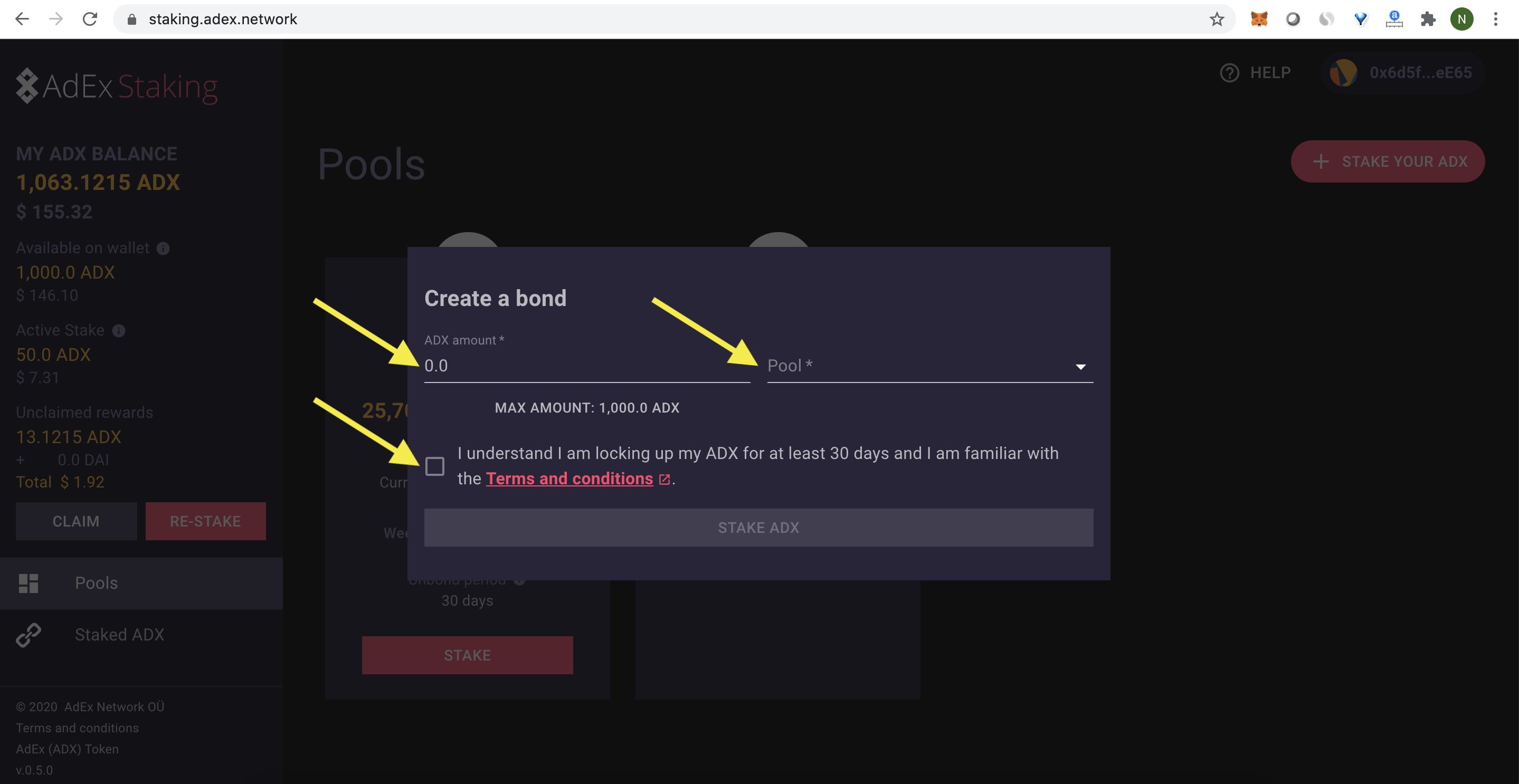 Step 7: Once you have filled the form, the "STAKE ADX" button will become active. Click it to initiate the creation of your staking bond.
You will also see the selected pool's reward policy, it's slashing rules as well as a pool APY (annual percentage yield) calculator. Keep in mind that the APY shown is of indicative value only and may vary.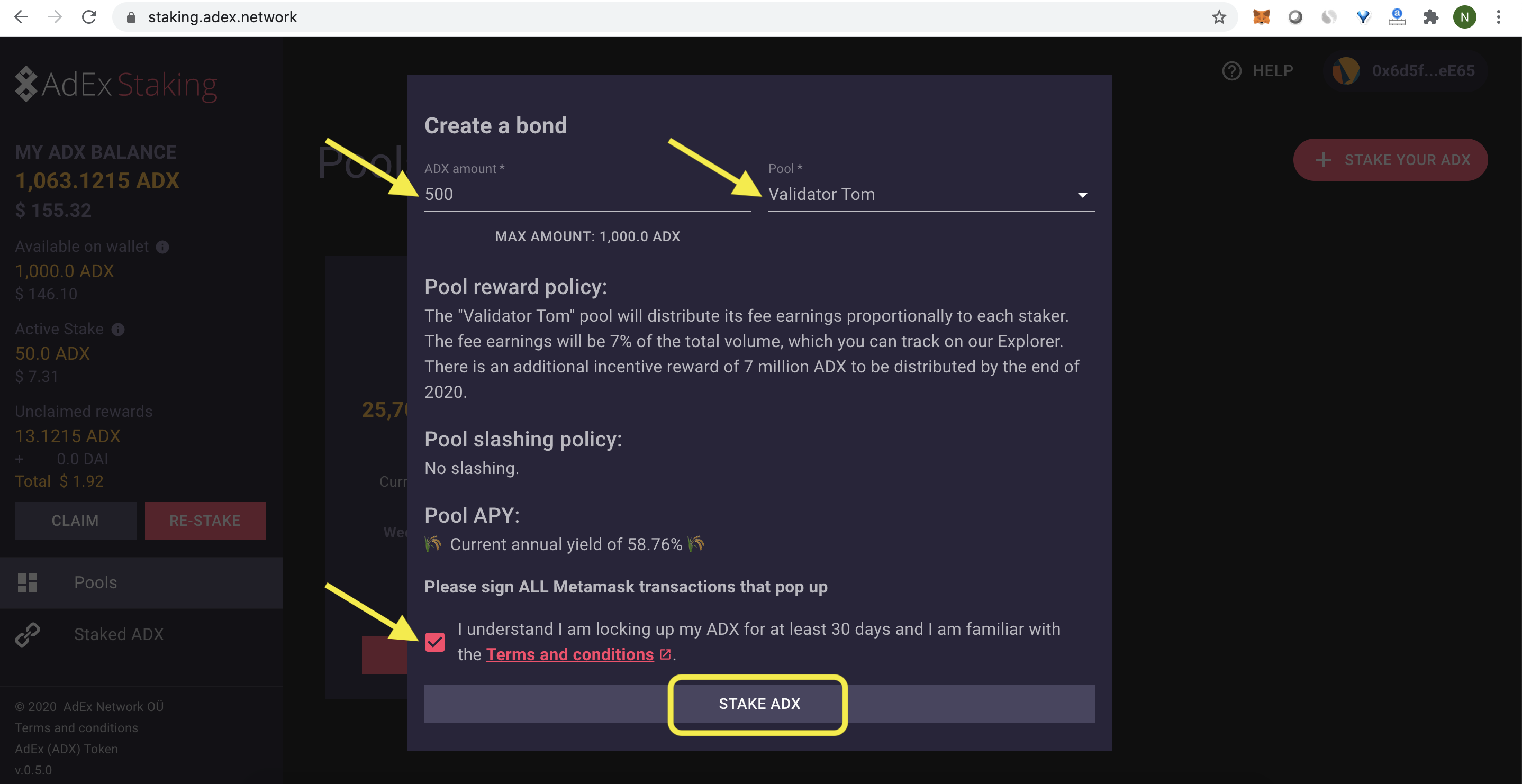 Step 8: Please follow the instructions in the MetaMask pop-ups (or on your mobile wallet) and confirm ALL transactions you are asked to sign. If you don't sign all transactions, the funds will be available in your balance but a stake won't be created (you'd need to start over).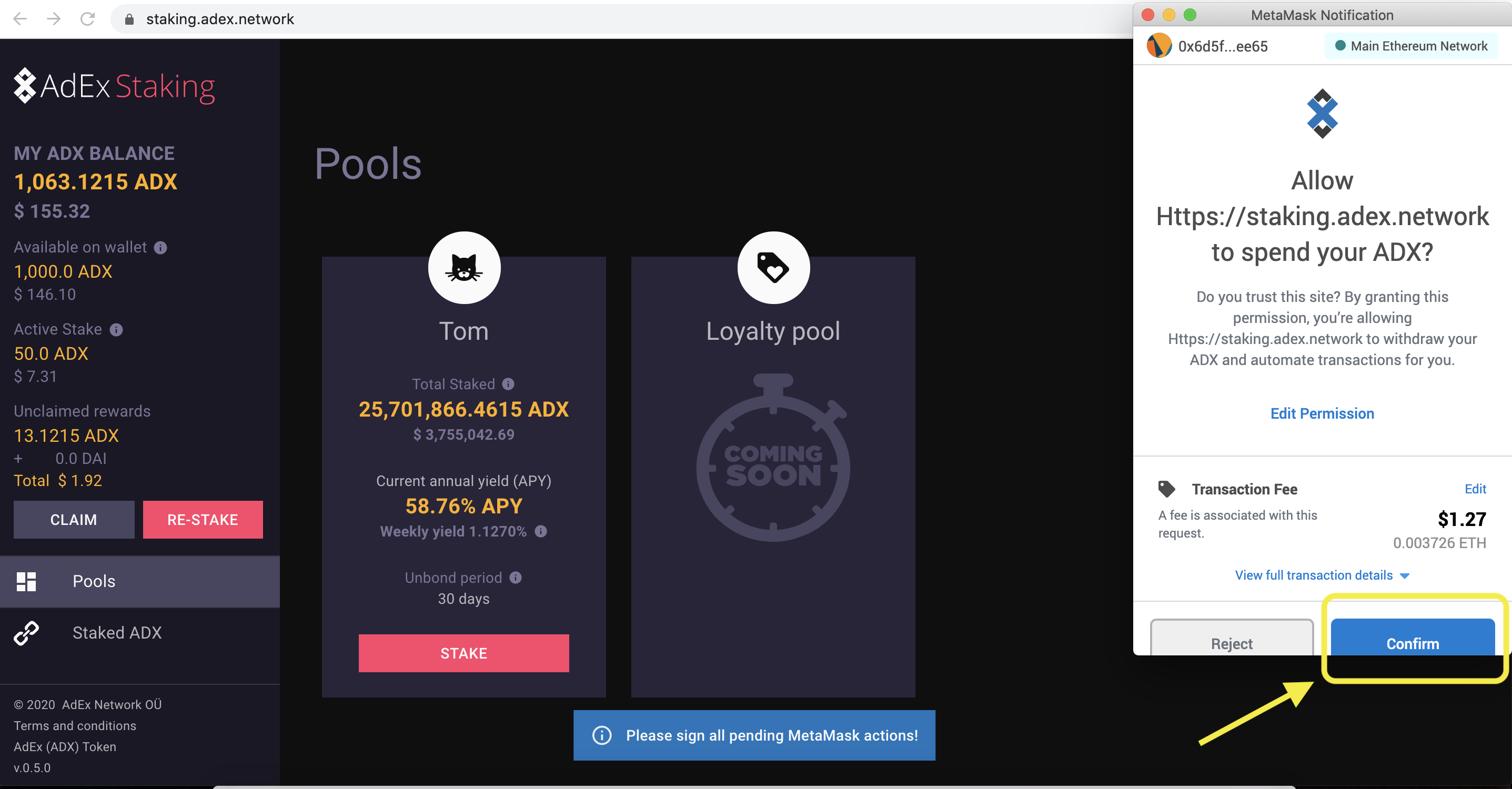 Step 9: Once the transactions are mined (you can check in the MetaMask UI), you will be able to see the staked amount in the left hand side of the page or by clicking on Staked ADX under Pools.