Posted by AdEx Network on November 6th, 2020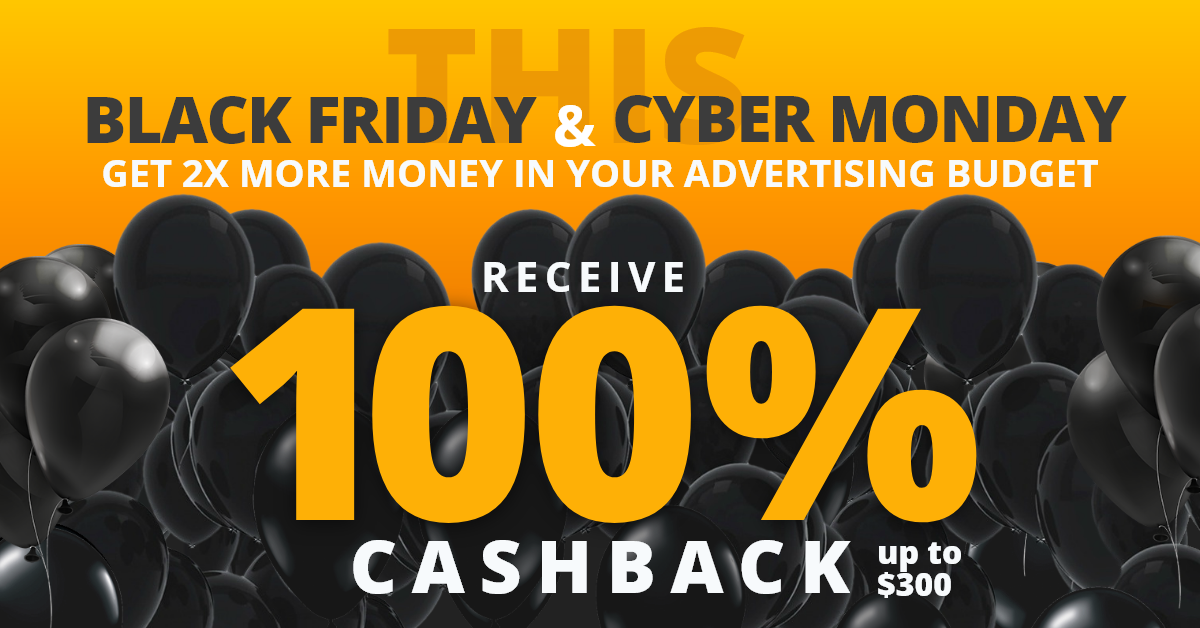 Well, 2020 has been rather tough already. But Black Friday and Cyber Monday are still happening, or so we all hope. And to give advertisers something to look forward to, we are giving 100% cashback on qualifying campaigns throughout November.
Promotional mechanics
Participating in this promotion is very straightforward: all you need to do is register for the promotion and launch one or more advertising campaigns during the promotional period.
Here are the conditions of the promotion:
To sign up for the promotion, you need to fill this form, then run advertising campaigns on the AdEx platform.
Promotional period: 06.11.2020 - 30.11.2020
Cashback amount: 100% up to 300 DAI
Minimum campaign spend: 50 DAI (that's approximately $50; it can be spread over multiple campaigns during the promotional period)
Maximum advertising bonus amount: 300 DAI for the entire promotional period
Minimum CPM: 0.5 DAI. This means that in order for a campaign to qualify for the cashback, you need to set your minimum CPM bid at 0.5 DAI or more.
The bonus money you will receive will be available for advertising on AdEx Network only - you will not be allowed to withdraw or transfer it.
---
---
FAQ
I want to take advantage of the promo but I don't have an AdEx account. What do I do?
You can sign up for our ad network here.
If I spend 3,000 DAI on advertising campaigns during the promotional period, will I get additional 3,000 DAI?
No. The maximum bonus amount is 300 DAI.
If I start one campaign for 25 DAI and then another one for 25 DAI more, do I qualify for the cashback?
Yes. As long as you launch campaigns for a total of 50 DAI or more during the promotional period, you are eligible to get 100% of the campaigns combined value back.
Do I need to have cryptocurrency (e.g. DAI or BTC) to deposit?
No, we accept payments in EUR, GBP, USD, CAD, etc too.
Promotional Terms & Conditions
To take advantage of this promotion, deposit and spend a minimum of 50 DAI on advertising campaigns on AdEx between 06.11.2020 and 30.11.2020. AdEx Network will then match 100% of your spend up to 300 DAI. You need to have registered for the promo by filling the form to participate.
You must use the same email address to sign up for the promotion and to register your AdEx Network advertising platform.
Only campaigns with a min CPM of 0.5 DAI or more qualify for the bonus.
You can qualify for the promotional bonus with a single or multiple campaigns. The total spend must be 50 DAI or more, excluding grants received from the AdEx team.
The promotional bonus can be spent on advertising campaigns only. It is non-transferable and can't be sold, bartered or withdrawn from the AdEx account.
Campaigns funded with AdEx advertising grant money do not qualify for the bonus.
The offer for the promotional cashback is valid for new and existing customers.
AdEx Network reserves the right to deny the cashback bonus in any case where fraud or fraud attempt is suspected.
This offer is subject to approval, valid registration, and acceptance of the AdEx Network standard terms and conditions.
The promotion may be revoked at any time for any reason by AdEx Network.
By registering for the promotion, you agree for AdEx Network to send you news and other related content.
Don't have an AdEx account yet?
Don't worry! Creating an account is free and only takes a few minutes. We have also have a handy tutorial for this.