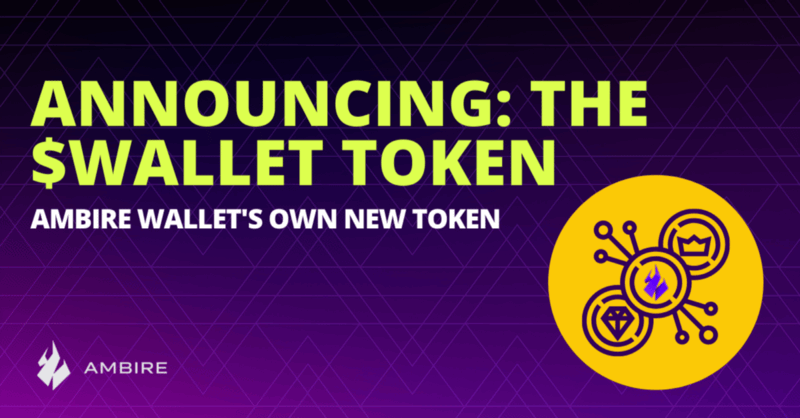 Posted by Ambire on December 3rd, 2021
We are thrilled to announce that together with the public launch of the Ambire Wallet, we will also launch the WALLET token.
The purpose of $WALLET is to be used for rewarding Ambire Wallet users and to enable governance. Initially it will be launched on Ethereum but plan to bridge it to Polygon and BSC later on.
Read on to learn everything you need to know about it.
Why a new token?
Ambire Wallet and Ambire AdEx are two separate products, and the business models of the two are completely different.
Ambire AdEx gets its protocol revenue from ad volume, and Ambire Wallet does so from swaps and fees. This means that we need two tokens with separate tokenomics.
Furthermore, to get the best possible support for the Ambire Wallet, we closed a funding round. Мinting new ADX tokens for that is not possible due to the fixed limited supply but even if it were possible, it would have been unacceptable towards current token holders because of the dilution. Overall, we believe this separation is a complete win-win for both projects, as both tokens can have their token economics optimized for the project goals, and nobody gets unjustly diluted.
What about ADX?
$ADX is stronger than ever with its own token economics tied to the Ambire AdEx validators. The staking APY at the moment is about 46%, which continues to incentivize more tokens to be locked up in staking.
As the ad volume grows, this will increase because of our buyback-and-redistribute mechanism. Ambire AdEx itself will continue business development in the fields of crypto advertising and the metaverse: we believe we're a great fit for this new and totally unexplored world of rewarding attention in the metaverse. Stay tuned for more updates and a 2022 roadmap!
Finally, the new WALLET token will have a significant allocation for $ADX stakers.
$WALLET distribution
The $WALLET supply will be 1 billion, distributed as follows:
10% for early backers with 1-year linear vesting (i.e. more tokens unlock with every block, and recipients can claim manually when they want to);
10% for the Ambire team with 3-year linear vesting;
10% for $ADX stakers, distributed over 18 months as additional staking rewards;
30% for early Ambire Wallet users and stakers, distributed over 4 years;
35% for the WalletDAO;
5% for initial liquidity.
Staking and xWallet
$WALLET holders will have the option to stake their tokens in a single staking pool. In return, stakers will be getting xWallet tokens that represent their share in the pool. The staking pool will have a lock-up period of 20 days, similarly to the Validator Tom pool for ADX staking, and there will be a "Rage quit" option that will allow people to unstake immediately.
WalletDAO
The WalletDAO will be a decentralized autonomous organization controlled by token votes through the $WALLET token. The DAO will be voting on proposals about the future of Ambire Wallet, such as decisions on protocol integrations, ecosystem grants, etc.
The DAO will have a treasury managed by a multisig controlled by delegates. The treasury will consist of the 35% token allocation, as well as revenues from transaction fees and swaps.
Proposals that involve treasury spending can only be submitted by the core team but they can be voted on by all token holders, and would require a quorum. Each proposal vote will run for a specific amount of time.
---
Interested in Ambire AdEx ? Follow us: