Posted by Ambire on August 16th, 2022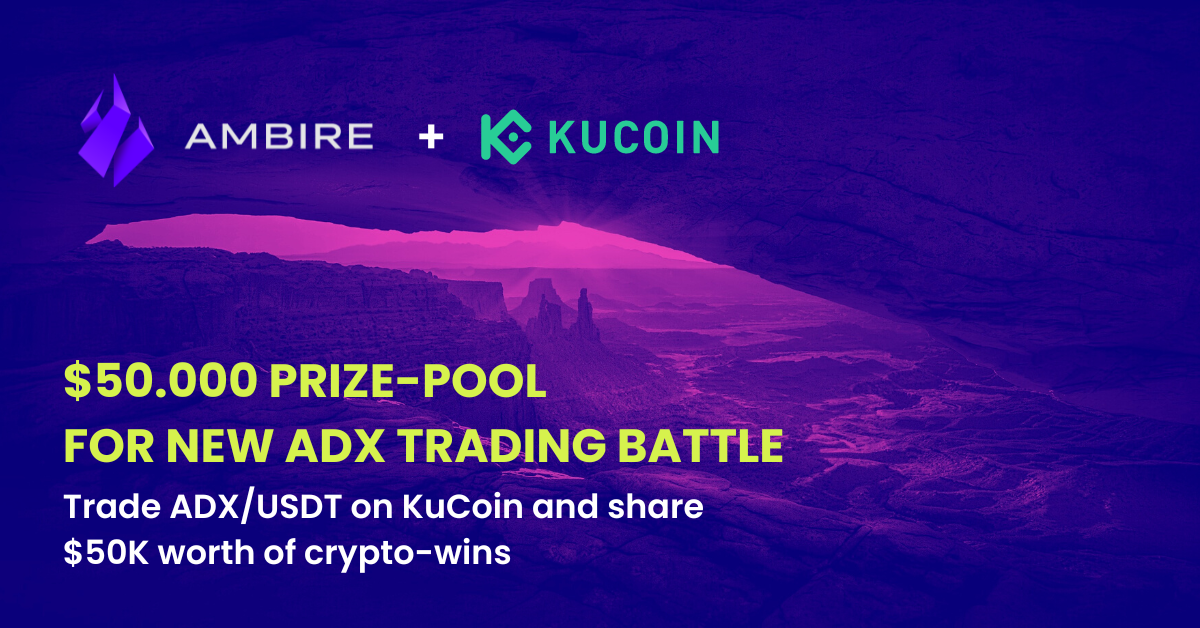 Trade ADX/USDT from your KuCoin account and share a prize pool of 50K in ADX
Yes, it's 🏝vacation season 🏝, but that doesn't mean the crypto world takes a break.
On the contrary — since you're probably spending and exchanging more, to enjoy and have fun — we've got you hooked-up with a contest that can amp your portfolio considerably: 50.000 USD worth of crypto are in the mix for the hottest trading contest of the moment 🔥🔥🔥
ADX is the star of the show, so read on to see how you can win 🙌
To the Trading Battle Stations 💻📱
KuCoin, one of the leading global crypto exchanges, has just launched a one-week trading contest with a shared prize-pool of 50.000 USD equivalent. All you need to do is make sure you trade the ADX/USDT pair from your KuCoin account between today (August 16) and August 23, 2022, 12 PM (UTC).
There will be two activities associated with the ADX trading contest on KuCoin, each with a different prize:
1. High-level Trading Battle: the top 50 accounts with the highest trading amount (buys and sells), along with the top 50 accounts with the highest net buying amount (buys, sells and withdrawals) of the ADX/USDT trading pair on KuCoin will win a share of an ADX prize pool worth $40,000. The trades must of course be made during the official period of the contest, so be sure to give it your best for the next week.
Below the trade & prize split that you can get your share of:

Prize split for Activity 1 of ADX Contest on KuCoin

2. Crypto-cool Trade Course: for those of you who do not identify as a crypto-🐳 and have a more moderate approach, there's also a 10.000 USD prize pool to be shared among KuCoin users who achieve a trading amount (buys and sells) of at least 1,000 ADX in the contest week and also add the ADX/USDT trading pair to their Favorites list on their KuCoin accounts.
So yeah, you are free to enter the contest no matter what level of crypto-engagement you're at, all you need to do is make sure you get your ADX on 😎
We've got your back, no worries 😃
To enter the contest, you need to make sure you have a funded KuCoin account and that you are able to buy, sell or withdraw ADX against its USDT stablecoin trading pair, in the limits mentioned above.
Since some of you might not be that familiar with the KuCoin platform or some of the aspects of trading (i.e.what is the ADX/USDT pair), rest assured that you can count on our community and support team to address all your questions or concerns.
You can find us on Discord, Twitter or directly in our Help Centre — we're ready to iron out any uncertainties you may have, so that you can make the most of the 50k prize-pool 💰
🍀Good luck to all 🍀
Notes:
the quantity of rewards will be calculated based on the average closing price of the ADX/USDT pair during the campaign period;
the Sub-Accounts and Master Account will be treated as the same account when participating in the Ambire AdEx activity;
winners of Activity 1 will not be eligible to receive the Activity 2 rewards;
KuCoin will update the top 10 rankings of Activity 1 before 13:00 on August 19, 2022 (UTC); final rankings will be updated within 5 working days of the campaign ending;
the trading activity on the platform will undergo rigorous inspection during the contest period and for any malicious acts conducted during this period, including malicious transaction manipulations, illegal bulk registration of accounts, self-dealing, etc., the platform will cancel the qualification of the participants;
Ambire and KuCoin do not give trading advice or recommendations; please understand that you trade at your own risk; as always: DYOR.
More about the rules and conditions of the contest in KuCoin's official announcement.
Interested in Ambire? Follow us:
Discord | Facebook | Twitter | Reddit | GitHub | Telegram