Sending cryptocurrency from one account to another has never been easier! If you wish to transfer funds from your Ambire Wallet, you can do it by following the steps below.
Step 1: From your Dashboard, click on Transfer in the left side menu.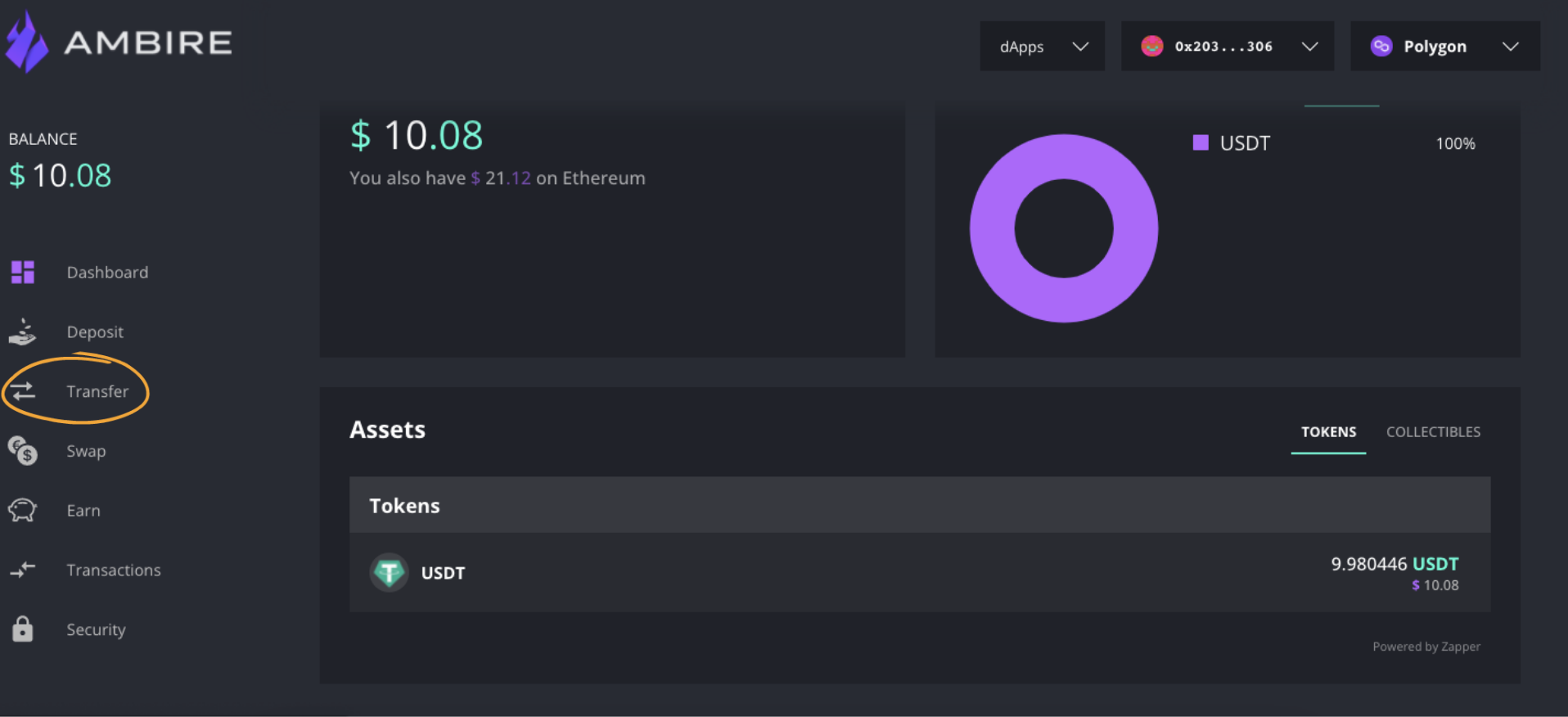 Step 2: From the dropdown menu, select the currency you wish to send. Please keep in mind that you can only select currencies that are part of your Ambire Wallet portfolio.
Step 3: Insert the amount you wish to transfer. The available amount you have in your balance will be shown above this field. Note that some currencies do not allow sending fractions or less than one unit.
Step 4: Insert the recipient's address. You can also click on the small icon on the right side of the field to view your saved addresses, or click on the address in your address book to include them without typing or pasting. Double-check if you have included the correct recipient's address, since blockchain transactions are irreversible and we will not be able to help you restore your funds, if they are sent to a wrong address.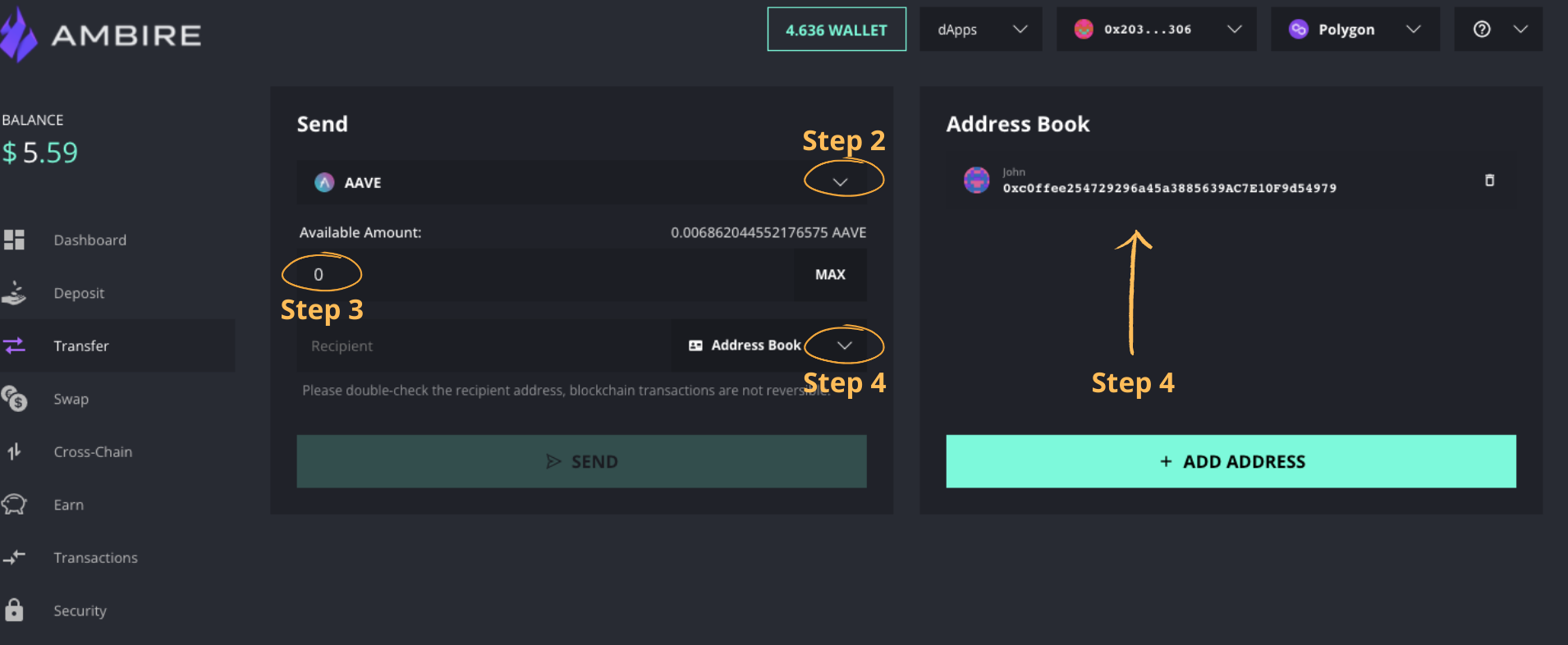 Step 5: After clicking on Send you will be redirected to a page with a summary of your transaction, as well as an option to choose the currency with which you want to pay the gas fee and the speed with which you would like the transaction to be executed with its corresponding amount of gas.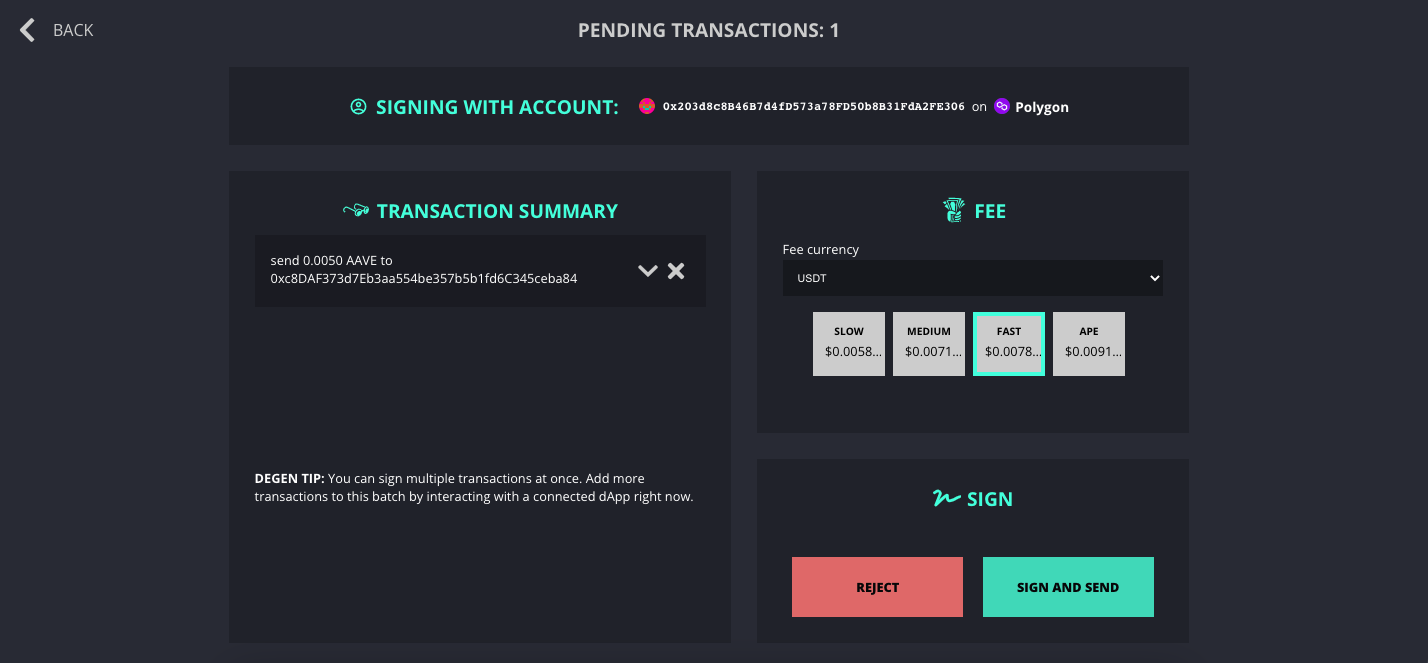 Step 6: Confirming the transaction
Depending on how you have logged in, by using email, Metamask, Trezor or Ledger, there are a few transaction confirmation options you could be presented with after clicking on Sign and Send
Email login: In order to confirm the transaction you will be asked to type in your password, as well as a seed phrase which will be automatically sent to the email address you registered with in Ambire Wallet. Please keep in mind that the seed phrase is active only for 3 minutes.

Metamask login:

A metamask window with a confirmation option will automatically popup. After you sign the transaction there, it would be confirmed in the Ambire wallet.

Trezor or Ledger:

the transaction needs to be confirmed in your hardware wallet
Step 7: If the transaction is successful you will be shown a message confirming it in the bottom part of your screen. A history of your transactions will also be recorded in the Transactions category in the left side menu.