There are two ways in which you can connect to a dApp with Ambire Wallet:
1. Through our dApp catalogue
Step 1: Go to your Ambire Wallet dashboard
Step 2: Click on dApps in the left side menu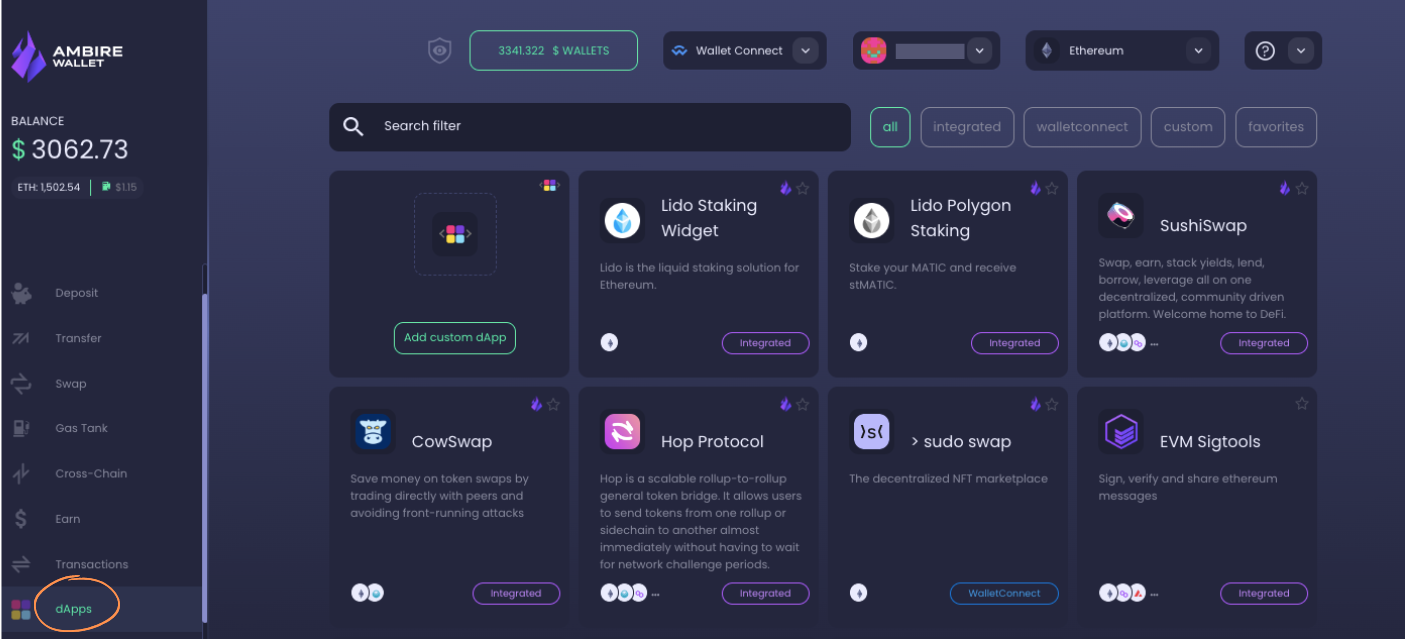 Step 3: Click on the dApp that you would like to use. Please keep in mind that dApps in the catalogue are network-sensitive, so make sure you are the right network when trying to connect to a dApp. If the dApp you are looking for is not in the list, you can add it in a few easy steps.
2. Automatically or Manually through WalletConnect:
Automatically: if you've enabled the clipboard permission, just copy the WalletConnect URL from the dApp and go to the Ambire Wallet tab, and you will be automatically connected.

Note: This mode is not available in Firefox due to browser restrictions.

Manually: copy the URL click dApps in the top right corner, click "Connect dApp" and paste the copied URL.
Once you've connected a dApp, the connection stays permanently until you disconnect it. Although some dApps might require clicking "connect" every time you refresh them, just clicking "connect" and then "WalletConnect" should be sufficient.
How to copy the URL: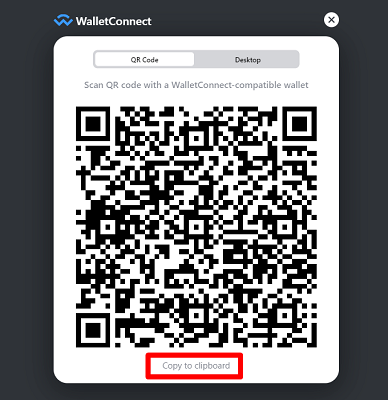 Quirks you need to keep in mind
Should a connected dApp ever not sync with your selected account/network, just select another network/account and then go back to your original setting, and it should sync. If not, reconnect it.
Some dApps use a deprecated version of WalletConnect which doesn't work as well. If that's the case, we will warn you with a little warning triangle next to the dApp name in the dropdown.
Some dApps such as MEW display WalletConnect as a "mobile wallet" option - this is incorrect, as WalletConnect is intended for web wallets as well. Just select that option and copy the URL as normal.
Some dApps do not offer disconnecting from WalletConnect. In this case go to the dApp, open DevTools, and paste in delete localStorage.walletconnect and refresh. This is entirely safe to do and it will disconnect you.
Some dApps such as Uniswap will immediately disconnect you if you're on the wrong network. Select Ethereum prior to connecting with Uniswap.
What are dApps?
dApps, or decentralized apps such as Uniswap, SushiSwap and Aave allow you to participate in the world of decentralized finance easily and without permission from anyone: for example, you can swap assets or borrow funds against your assets without intermediaries and approvals.
What is WalletConnect?
WalletConnect is a open-source protocol for connecting wallets with dApps.
How do I know if a dApp supports WalletConnect?
Most popular dApps support WalletConnect. To check, click connect in the dApp and see if there is a WalletConnect option. Sometimes the option is erroneously called "Mobile wallets" but it's there.