Transaction batching is a time and money saving feature of Ambire Wallet which you can easily use to optimise your transaction fees. Transactions refer to a number of actions that you can execute with Ambire Wallet, including transferring funds, swapping one cryptocurrency for another, depositing into Aave and more. Batching means that you can group all of these actions together and sign them all at once.
By batching multiple transactions together, the advantage is that you save up on gas fees (instead of paying for each transaction, you only pay once for the entire batch to be processed). The best part is that you can even batch transactions with funds that you do not yet have in your wallet! Here is an example, so that you can understand better what we mean by this:
You have O DAI

Initiate a swap USDC <> DAI

Future balances are calculated

Initiate DAl transfer

SIGN BUNDLE:

Uniswap token approval

+ USDC <> DAI swap

+ DAI Transfer
In the following article, you can learn more about transaction batching, advantages that helps to enhance the user experience, and more examples, and real-world applications: What is transaction batching.
In this tutorial we will show you how you can group (batch) multiple transactions together. Please keep in mind that in the screenshots there are only two transactions included, but when using the wallet you can batch as many as you wish.
Step 1: Set up your transactions without signing them
Here are tutorials on how to execute some of the most common transactions on the Ambire Wallet:
Once you get to the screen shown below for each transaction, in which you actually need to sign the transaction, click the "Back" button and proceed with setting up the transactions you wish until the last one.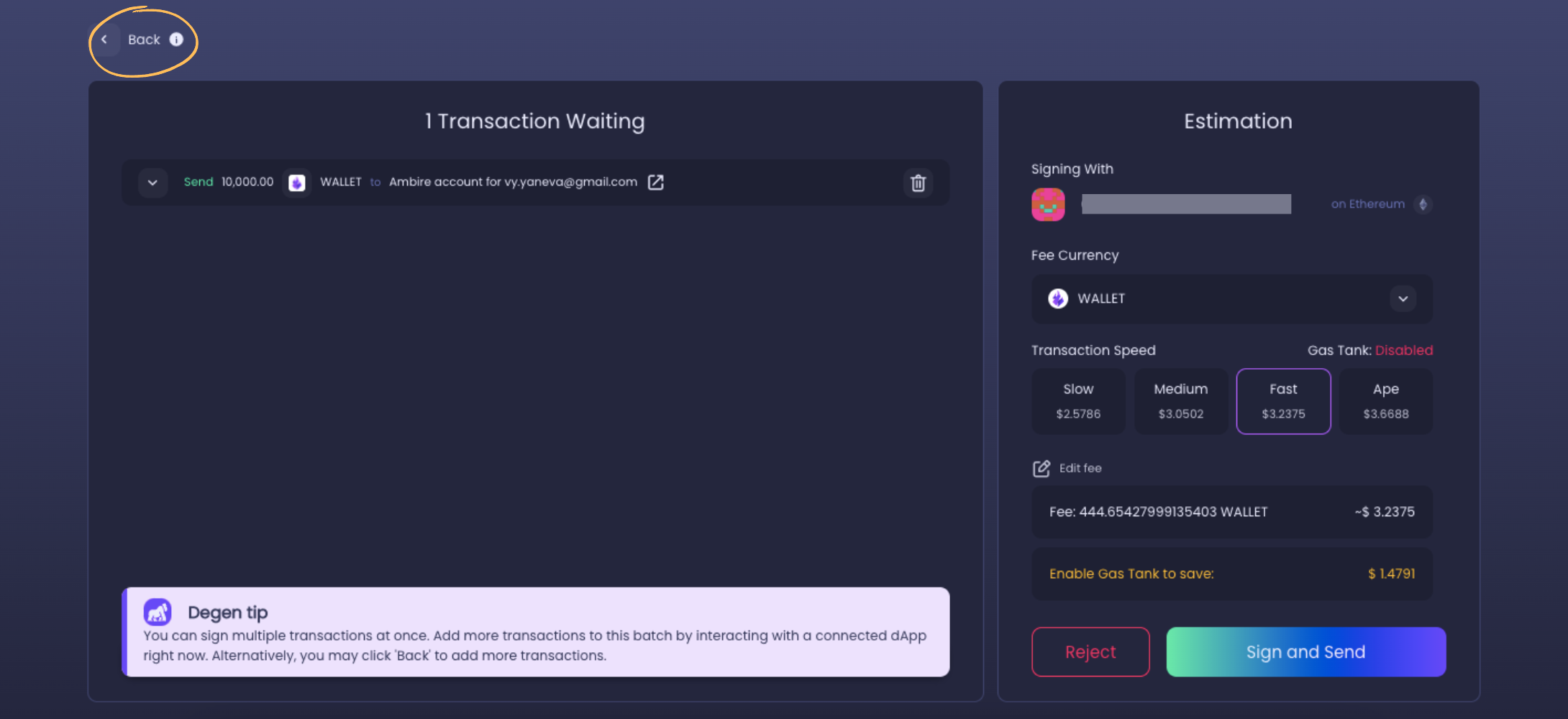 Step 2: Review your transactions in the process if needed.
You can view your batched transactions by clicking on the small popup in the lower right corner

or by going to the Transactions tab and viewing them under Waiting to be signed

Step 3: Sign and Send
One you are ready with the transactions you want to batch, you will be presented with a summary of your transaction, as well payment options for the transaction. You can remove transactions by clicking on the X mark next to each of them.
You can choose to pay the fees with or without the gas tank option, which you can learn more about here. If you wish to enable the gas tank, you can simply go back to your dashboard, click on the Gas Tank tab and move the slider tab to enable it.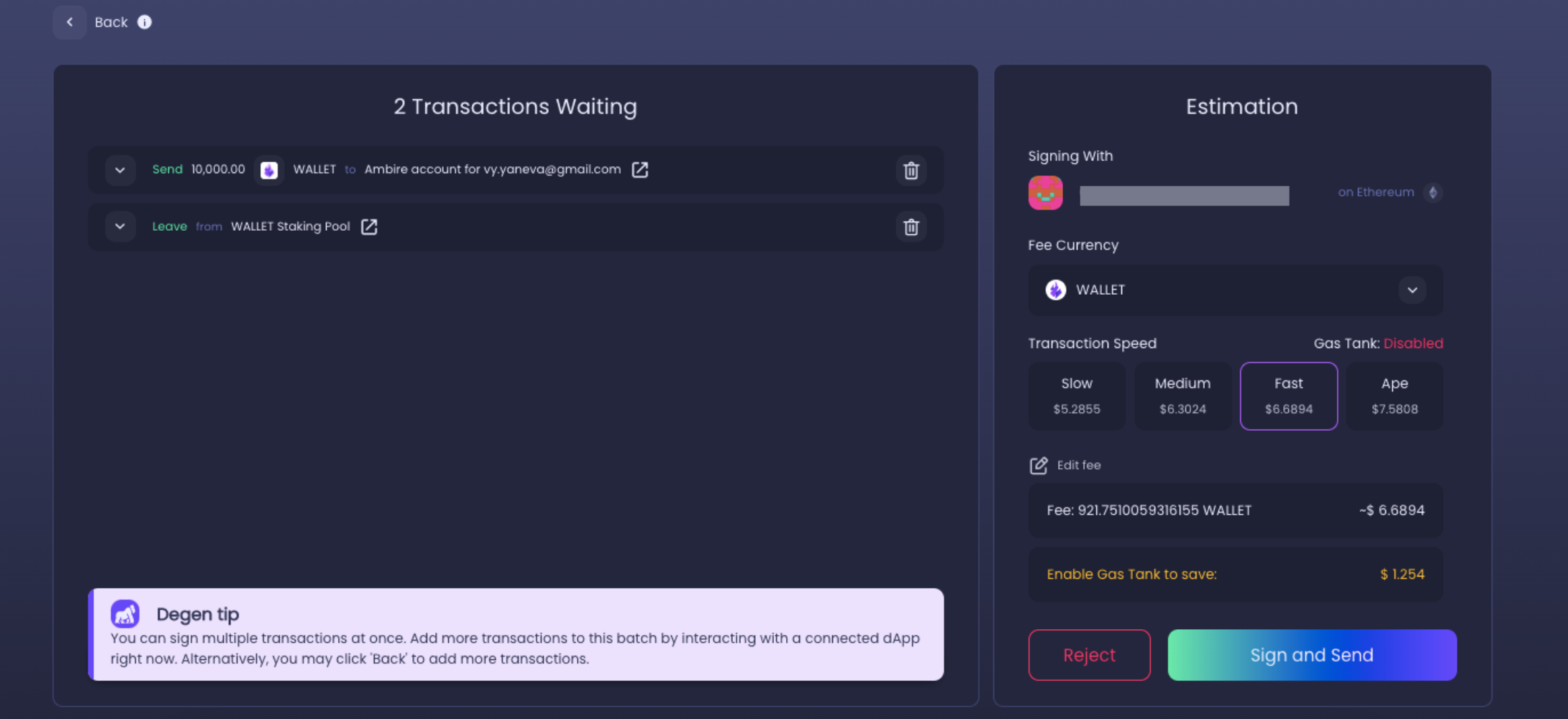 If your gas tank is disabled, select the token with which you want to pay the fee, as well as how fast you want the transaction to be executed. Higher fees are charged for faster transactions.
If your gas tank is enabled, you will be able to use only the tokens, which you have previously deposited in the gas tank and you will need to choose the speed of the transaction, which you prefer. The fees section will also show you how much you would save in terms of gas fees by using the gas tank.
Step 4: Confirm the transaction - Depending on how you logged in, by using email, Metamask, Trezor or Ledger, there are a few transaction confirmation options you could be presented with after clicking on Sign and Send.
Email login:

In order to confirm the transaction, you will be asked to type in your password, as well as a one-time password (OTP), which will be automatically sent to the email address you registered with or a 2FA authentication code if you have activated your 2FA authentication.

Please keep in mind that the OTP is active only for 3 minutes.

Metamask login: A Metamask window with a confirmation option will automatically popup. After you sign the transaction there, it will be confirmed in the Ambire Wallet.

Trezor or Ledger: The transaction needs to be confirmed in your hardware wallet